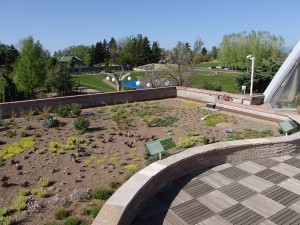 This is the week for the Green Roof for the West Symposium! On Thursday, June 17, from 8 a.m. to 5 p.m., Denver Botanic Gardens opens its doors to a regional conference with international speakers.  The Gardens and its co-hosts (the U.S. Green Building Council - Colorado Chapter, Colorado State University and UC-Denver College of Architecture and Planning) have been looking and working towards a reprise of last year's sucess.  This year promises to be as forward-thinking and informative as the first ever symposium, also held at the Gardens.  The registration price is $125 for the entire day, and current students with valid ID pay only $30. Includes continental breakfast, box lunch and beverages.
The symposium will feature a full day of in-depth sessions, presented by leading green roof experts and designers from across the U.S. and around the world. This year's agenda will spotlight the innovative ways green roofs are leading us to a future of more sustainable cities in the challenging climate of the West. The event also delves beneath the surface to inform professionals about green roof viability and implications in the West, and lay the groundwork to influence policy in Denver and the Intermountain West.
Here's the schedule for the day:
7:30 a.m. Registration opens. Continental breakfast available.
8 a.m. Welcoming Remarks by Brian Vogt, CEO, and Panayoti Kelaidis, Senior Curator and Director of Outreach, Denver Botanic Gardens
8:15 a.m. Pictorial Meadows: The Planting and Design of Green Roofs with Nigel Dunnett, co-author of "Planting Green Roofs and Living Walls" and director of the graduate research school at the University of Sheffield, coordinator of the degree for landscape design with ecology.
9:30 a.m. Challenges when Constructing Green Roofs in Arid Climates with Susan Weiler, FASLA, Partner at the Landscape Architecture Firm, Olin Studio. Susan is co-author of "Green Roof Systems: A Guide to the Planning, Design, and Construction of Landscapes over Structure."
10:30 a.m. Break
10:45 a.m. Policy and Green Roofs Panel Discussion:  Scott Morrissey (Greenprint Denver), Kyle Zeppelin (Developer), Stacey Eriksen (Urban Watershed Revitalization Coordinator, EPA), and Senator Chris Romer. Moderated by Tina Bishop, Principal, Mundis Bishop Design.
Noon Lunch located in the Trade Show area
1 p.m. The Future and Use of Green Infrastructure, including Green Roofs, in Building Technology with Jeffrey Bruce, of Jeffrey L. Bruce and Company (Landscape Architects and Planners).
2 p.m. Green Roofs in Hot, Dry Climates with Claudia Harari, a landscape architect Principal of Harari Arquitectos from the Monterrey Area of Mexico.
3 p.m. Break and Book Signing
3:15 p.m. Regional Case Studies: Karla Dakin, Jennifer Bousselot, Mark Fusco, Leila Tolderlund, Andy Creath, Lisa Lee Benjamin.
4 p.m. Grasses for Green Roofs with John Greenlee, a renowned specialist in growing ornamental grasses and grass-like plants. Owner of Greenlee Nursery, John Greenlee Associates, and author of The Encyclopedia of Ornamental Grasses and The American Meadow Garden.
I know Denver Botanic Gardens and all of the co-hosts want to thank the organizations who have already leapt in to be supporters of the Symposium:
Platinum Level:
Tecta America
International Leak Detection
Gold Level:
Green Roof Solutions
Colorado Green Roofs and Walls
Weston Solutions, Inc.
Piccadilly Nursery/Sempergreen
Hunter
IWT America/KISSS
Willshire Design
Silver Level:
CETCO Building Materials
Douglass Colony Group
American Hydrotech
Bison Deck Supports
Finally, for professionals in the green building and green roof fields, this could be continuing education credits for you.  As an approved USGBC Education Provider, USGBC Colorado is excited to offer a total of 6 Continuing Education (CE) Hours through GBCI³ Credential Maintenance Program.  If you are a LEED Professional enrolled in CMP, remember to pick up a tracking form at registration and record the name of each session you attend during the symposium! Further details are noted on the symposium's registration page.