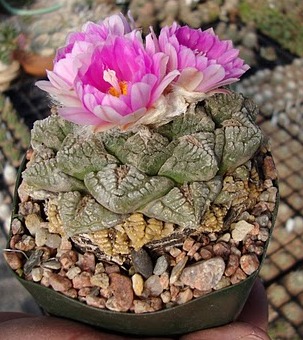 Ariocarpus fissuratus  
The annual Cactus and Succulent Show at Denver Botanic Gardens is this Saturday and Sunday (see details below). Most of us have a cactus or maybe an aloe  or two basking on a sunny window.  Nowadays, stickery plants like these are more fashionable than ever. I was just in Los Angeles a few months ago and there were succulents EVERYWHERE--in containers, on balconies, along the street parking strips. I took the picture above at a friend's greenhouse in Pueblo (that's a spectacular Texas cactus you are not apt to see in supermarkets). It's very sensitive to overwatering.
There will be experts on hand at this show to tell you about plants like these and advise you on the very best ones to grow in your garden.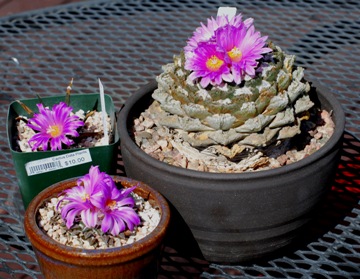 Ariocarpus spp. in full glory (pic by Keith Woesterhoff)
The editor of our cactus newsletter took a picture of these spectacular Ariocarpus. Boy, would I like to have those in MY greenhouse...I guess I better start by getting a greenhouse first...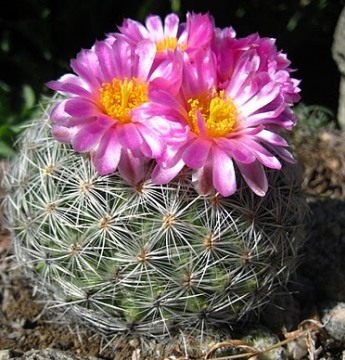 Mountain snowball cactus (Pediocactus simpsonii)
This is a cactus I DO have. It's growing in a pot for me outdoors. This is our glorious mountain ball cactus, still quite abundant on sunny slopes in the lower foothills and on the floors of the mountain parks. It has an incredibly sweet, spicy fragrance and will be blooming for me in a few weeks (too late for me to put it in the sale, darn it!).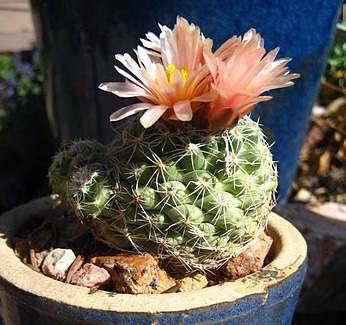 This is one of the rarest native cacti, found only on one or two spots near Wedge overlook near the San Rafael river in east central Utah. It has thrived for me for many years in this pot (although last year I finally planted it in my garden). This is the sort of gem you will see in droves at the incredible Plant Show at this event.
Don't miss it! If you're not crazy about prickly things, remember there are no end of glamorous succulents without any stickers at all as well! And lots more...
The 2011 Colorado Cactus and Succulent Society Show and Sale will be held Saturday, March 26 and Sunday, March 27 at Denver Botanic Gardens. Be there or be square!
Sale hours: Saturday - 9 a.m. to 5 p.m., and Sunday - 9 a.m. to 4 p.m.
If you print the coupon below, you can present it when you come to the sale for a free cactus plant!