Families are invited to join us on Saturday, May 5 to explore Japanese, Native American and Mexican cultures in Mordecai Children's Garden from 5:30 - 8:30 p.m. Families will have the opportunity to plant a garden to take home with them, discover the Japanese art of Gyotaku, and enjoy a snack from chipotle. Special guests Jeff Kagan and Paige Doughty will join us for a special kid's concert!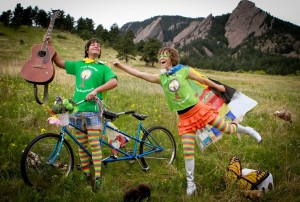 Cost: $20 member for a family of four, $3 for each additional person. $25 non-member for a family of four, $4 for each additional person. Children two and under are free of charge. Please register online or call 720-865-3580 to reserve your family's spot.
Where: Mordecai Children's Garden. Family Fun Night access is through the Morrison Discovery Center gate at the southeast corner of York Street and 11th Avenue. Park in the garage, exit at Level 2, turn right and walk down the sidewalk to the entrance.
Global Gardens is the second of seven Family Fun Nights, held on the 1st Saturday of every month, April - October. More information about Family Fun Nights and a list of all family-friendly events can be found here.