A lot of people will send or receive a bouquet of roses today, and they will be continuing a very long tradition.
Roses are one of the oldest of cultivated flowers—they have been grown across Asia for many centuries.  Roses first came to Europe from Persia and were already extremely popular in Greece by the time of Herodotus (5th century BC), who recorded his visit to the famous rose garden of Midas, son of Gordias (yes that Midas).  The Greeks brought roses to their colonies in Sicily and southern Italy; thence they were adopted with as much gusto by the Romans.  Both Greeks and Romans associated roses with their deities, particularly Aphrodite and Venus, goddesses of fertility and love.  Roman legend linked Venus with the creation of the rose, and her pairing with roses helped form their major association with love.  Medieval thinkers continued and expanded on the romantic association of roses.  Roses represented fertility and the season of spring because of their many blossoms, and pleasure because of their sweet fragrance and beauty.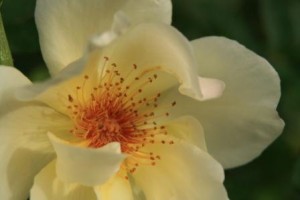 While less often thought of today, for classical and medieval people roses were important symbols of the pain and transient nature of love ("Every rose has her thorn").  Indeed, roses (especially because ever-blooming varieties were a distant dream) were as much a symbol of death as of love; a reminder that spring must pass into autumn and winter eventually, just as the sparkle of first love must dissipate.  Though we may rarely think of it today, this symbolism is the root of the cemetery rose and the tradition of laying roses on the caskets of loved ones at funerals.  Roses are powerful reminders of the inescapable dominance of time in our lives and the escape from that dominance through death.
Their beauty and imagery make roses popular gifts and garden plants, but they also have a reputation of being a bit finicky and difficult to grow.  While some roses do live up to this reputation, well chosen varieties usually provide years of flowers and few problems. Thousands of rose varieties are available, and no matter what you want your rose for (screening, fragrance, visual appeal) lots of options will usually be available at local garden centers.  Be sure to do your homework before heading out so you are sure to get a good variety for your particular garden.  The Helen Fowler Library at Denver Botanic Gardens is one good place to find information about roses for any region. 
 Photo: Rosa 'Golden Wings' by Sabra Brenner