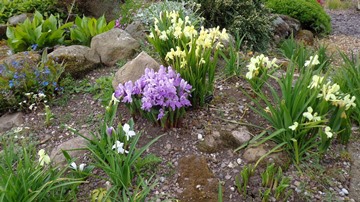 Purple Roscoea humeana and yellow R. cautleioides
Berwickshire in the south of Scotland is rather remote from Western China, but a large percentage of Chinese plants in cultivation have found their way to gardens via the great explorers of China. Ron McBeath, whose garden harbors many Chinese treasures, is among the foremost of these explorers. For decades he traveled almost yearly to China to collect for Royal Botanic Gardens, Edinburgh where he oversaw herbaceous collections and databases. Ron left RBG to found Lamberton Nursery, a rare plant nursery very near the English border. Although he has largely phased nursery operations, he and his wife Susan have time now and have developed a marvelous private garden filled with the very best plants. I was privileged to visit at a magic time when many of the showiest were in full bloom!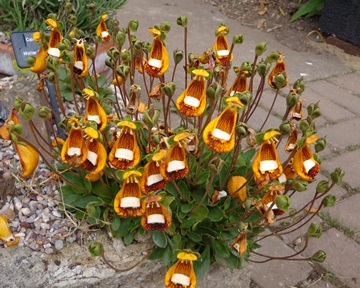 Calceolaria x 'Walter Shrimpton'
Possibly the flashiest miniature in the garden is this hybrid between two Patagonian slipper flowers (Calceolaria darwinii and C. fothergillii). As is often the case, the hybrid possesses greater vigor than either parent. These amazing plants are all pollinated by a shore bird--all the more remarkable because the slipper flowers grow on windy steppe...the birds peck the sugary white bar on the lip (which masks the pollinia) thereby transfering pollen from plant to plant.
Lilium Mackliniae
There were numerous clumps of this enchanting lily throughout Ron's garden: named by Frank Kingdon Ward for his second wife (Jean Macklin), this was introduced from Manipur in what was then Burma after the second World War. I was amazed at how variable the flowers were on different plants from deep rose red to pure white.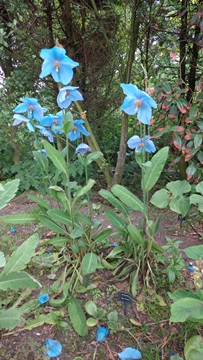 Meconopsis 'Slieve Donard'
Gardens in Scotland are famous for growing the Tibetan Blue Poppies well, and Ron's was no exception. This cultivar was in prime form a week or two after it would have finished in a "normal" year--I was delighted that it waited for my visit!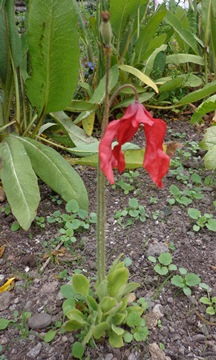 Meconopsis punicea
One of the most challenging Himalayan poppies is this miniature scarlet flowered gem--which the Scots seem to have mastered. In fact, there is a husky, perennial form now going the rounds. I have seen this growing superbly in Franktown, Colorado--so there is hope for high altitude gardens across our state to tame some of these gorgeous Asian wildflowers.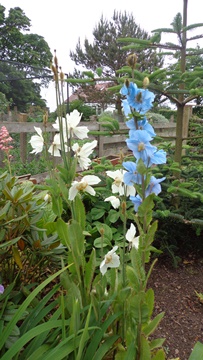 Meconopsis in blue and white
A white Meconopsis rounds out the red and blue to strike a Patriotic note. There really was no end of "mecs" as they call them in Scotland in Ron's garden...but there was much too much more to linger with these glories...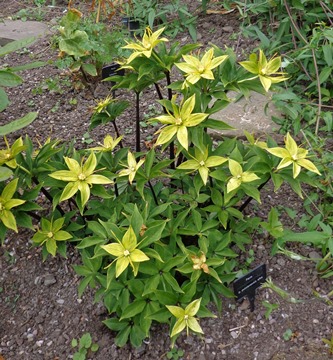 Paris yunnanensis 'Alba'
Ron grew a remarkable number of Paris throughout this garden, but I could tell he had special pride in this brassy flowered clump from southern China. The tepal segments vary from three to six--the three parted one reveals their close relationship to our native Trilliums. These are fabulously rare and expensive plants when encountered in a very few nurseries in America.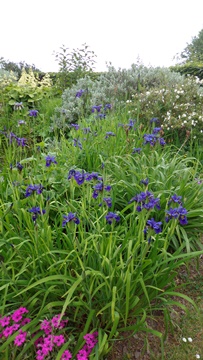 Iris clarkei and vista
In addition to the single treasures I've shown--Ron has robust border plantings full of sociable plants that mingle and combine artistically. Here, one of the 40-chromosome Chinese cousins of Siberian iris is making a very fine display.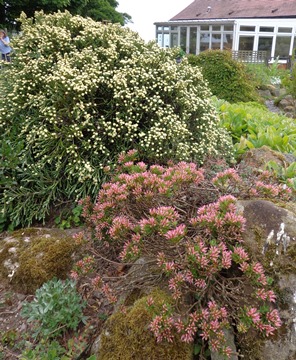 Daphne dominii and Helichrysum selago
In addition to little herbaceous gems, there are a wealth of trees and shrubs here. This peculiar pink daphne in the foreground was introduced to horticulture a few years ago as Daphne kosaninii, but is now called D. dominii. It grows beautifully for us in Denver as well--although its tight clusters of flowers are not as showy as some daphnes. The glorious white flowered shrub behind is one of the most robust specimens I've ever seen of this choice New Zealander.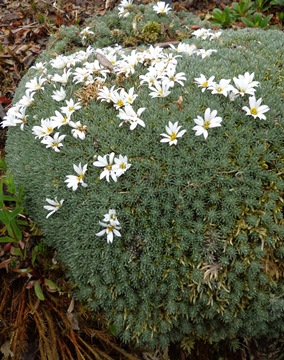 Celmisia argentea
There are many New Zealand treasures in this garden--the climate is so similar that Celmisias (challenging to grow in much of England or America) grow with great vigor in Scotland. This compact cushion form struck me as a perfect alpine for a garden (in Scotland anyway!)...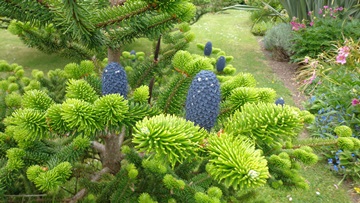 Abies delavayi
I end with a picture of the electric strobili of a Chinese fern named for a French monk who first introduced it to science. It exemplifies the allure of so many plants in Scottish gardens, and in the MacBeath garden in particular. I felt very privileged to be invited to give the keynote talk in honor of the Scottish Rock Garden Society's 80th Birthday in Pitlochry. It provided me a chance to see nearly a dozen gardens and nurseries across much of Scotland at their height of glory. The experience was equally humbling and exhilirating, and I hope you enjoy this glimpse of some of the highlights!