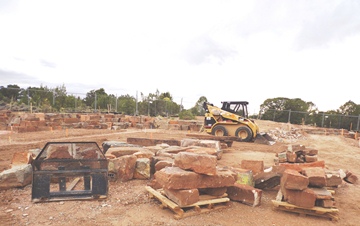 Not many people around today can remember when ground was broken at York Street for Denver Botanic Gardens. If you look at old issues of the Green Thumb newsletter and its predecessors you will find no end of articles complaining about how long it took to get to point when soil is moved, buildings and rocks are placed. When Denver Botanic Gardens was begun, botanic gardens were a rarity in the West--excluding the Pacific States and a few gardens in Texas and Arizona, there were essentially no botanic gardens west of Shaw's Garden in St. Louis. Today there are literally dozens of ambitious botanic gardens throughout the region, and more coming on line every year. Few, perhaps, quite as ambitious as Santa Fe Botanical Garden. I visited this site last March and wondered, "When are they going to break some ground?" Last FridayI saw that ground has indeed been broken! The garden is under way!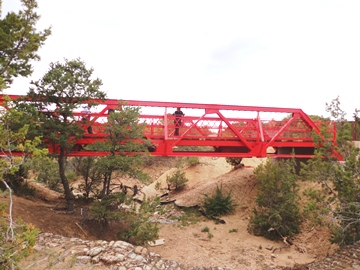 The orchard in the first frame is perhaps a bit hard to visualize, but this gorgeous red bridge (salvaged from an estate) painted this striking shade is unforgettable. The bridge spanning the arroyo where the garden is situated is definitely becoming a garden icon already!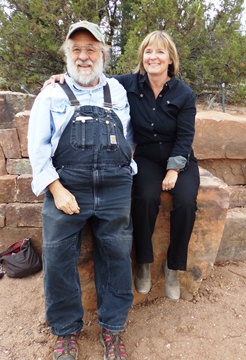 These are the two stalwarts who have helped nurture and guide the garden along its sometimes rocky path. Their work is not done! But don't they look happy?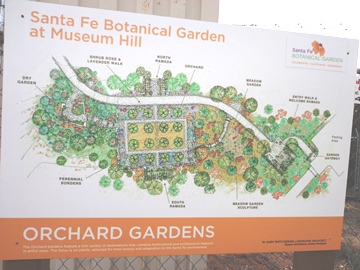 Master Planner Gary Smith's design for the garden is conspicuously posted in key spots to educate visitors as to what's coming. Gary has designed gardens at Winterthur, Longwood and many of America's great, established public gardens. He visited Denver Botanic Gardens a few years ago at the request of SFBG to get ideas...another example of how important Denver Botanic Gardens is to  regional horticulture! Staff at Denver Botanic Gardens were called in early in the history of many of the new gardens in this region including Kansas, Utah and our mountain communities. I know that our success has helped propel them. Although there have been economic downturns and issues over the past half century, botanic gardening is very much alive and well--a real growth industry in every sense of the word.  Congratulations, Santa Fe! Long may you grow and prosper!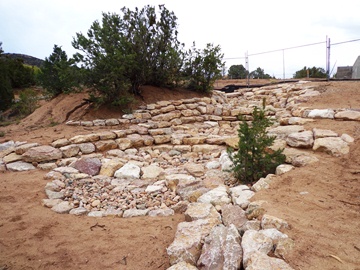 Even the rocks used for rip-rap along potential washes are placed artistically. The first phase of the garden is expected to be mostly complete by next July: I was really excited at the progress I have seen this visit and plan to check it up next summer. All true blue Coloradoans are secretly in love with New Mexico. Especially Santa Fe. Now the gardeners among us have yet another  terrific reason for heading south!