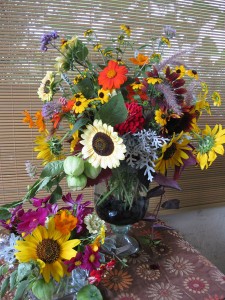 Saturday, Sept. 10
York Street
10 a.m. - 1 p.m.
Peonies, daffodils and iris in spring; zinnias, delphinium and daylilies in summer; sunflowers, mums and ornamental grasses in the autumn.  Whether you have a few flowers tucked in among your vegetables or a full cutting garden, it's hard not to gather a blossom here and there as you stroll through your garden. 
It is in this spirit of enjoying flowers straight from the garden that we are offering Fresh Flower Arranging: From Garden to Vase, a class on creating your own cutting garden and enjoying the flowers and foliage from your garden.
Imagine stepping out your back door to gather a big handful of golden rudbeckia, red globe amaranth and zinnias; then adding in some Mexican sunflowers, goldenrod and greens for an over-the-top arrangement for your table.  Or how about combining purple ageratum with tall verbena, cosmos and salvia with some dramatic foliage, grasses and pods for your home? Class participants will be introduced to these flowers as well as other stars of the autumn garden and will have the opportunity to make an arrangement of fresh flowers, grasses and foliage of their own to take home. 
Tips on container selection, using textures and contrast in the arrangement, and preparing flowers for use in cut flower arrangements will be provided.  The class will include a short tour of the Gardens to identify good candidates for a cutting garden.
All you need to make a fresh flower arrangement (a basic container, clippers, flowers and foliage) will be provided.  So that each participant may receive individualized attention, space is limited. 
Guest blogger - Ann Montague, Horticulturist
Instructor Profile - Lucinda Packard is a lifelong gardener who had her first garden so she would have flowers to cut. Many gardens later, she still gets a thrill out of creating an arrangement from garden to vase. Lucinda is an experienced floral designer, garden coach and is currently a Denver Botanic Gardens employee.