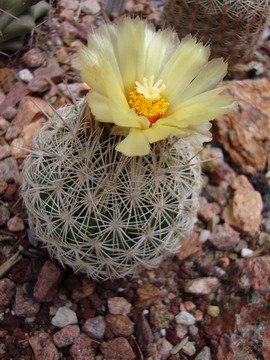 Golf originated in Scotland, but Cactus are all-American: the family is essentially restricted to North and South America (one renegade Rhipsalis has snuck into the Eastern Hemisphere). Most cacti in North America are found in the hot and dry southwest where the genus Escobaria is especially richly diversified. Nearly two dozen kinds of "nipple cacti" as they are sometimes called occur in Texas, Arizona and New Mexico, and Escobaria vivipara can occur in tremendous numbers throughout the entire western half of the continental United States, well northward into Canada as well.
Escobaria echinus is especially fetching to my eyes: the sphere of brilliant white spines really can look like a golf ball from a distance (although it can reach the size of a handball over time.) Throughout  the warmer months it can produce its comparatively huge badminton birdie shaped flowers of sherbet yellow, often with a darker reddish center. Each flower generally only lasts a day: this is not a plant for commuters since the blossoms open and close in the brightest daylight hours.
There was a time when wild cacti were commonly collected in the wild. Nowadays so many wholesale nurseries are producing huge numbers of barrel cacti and ball cacti for sale: who would want a scarred and mediocre wild plant when you can obtain glistening, impeccable seed grown plants? The solution to overcollection is propagation!
The plant in the picture above bloomed several times this summer. It was purchased this last spring at the Colorado Cactus and Succulent Society's sale in March--but I have others that have overwintered for almost a decade. You can see several fine specimens on the West and South ends of Dryland Mesa at Denver Botanic Gardens.
Despite their southerly origins, these fantastic miniature gems prove to be extremely cold hardy in the Denver Area. Just don't ever plant them near a golf course!