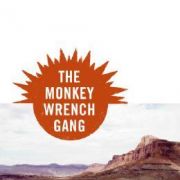 The Helen Fowler Library and Archives is the largest horticultural library in the Rocky Mountain region. Here you can find over 20,000 titles related to plants, including (but not limited to!) agriculture, botanical art, ecology, sustainability and landscaping. The library also has an excellent collection of world floras, from Iran to Patagonia, and a wonderful section on alpine gardening. We even have a lovely collection of cookbooks and fiction (botanically themed, of course), but that's not all we have.
Here are my top five recommendations for finding humor in your horticultural literature and entertainment.
 The Monkey Wrench Gang by Edward Abbey. Labelled by Abbey as a comic extravaganza, you can find this eco-novel in our fiction section. It's quite possibly as relevant today as when it was published in 1975.
Attack of the Killer Tomatoes starring David Miller and George Wilson. It may be the pinnacle of ridiculousness (at moments), but it is a B-movie classic based just on the title!
Wicked Plants by Amy Stewart. Clever and charming, Stewart provides an A-Z list of menacing plants that offend, intoxicate, maim and/or kill. It's not to be missed.
A Walk in the Woods by Bill Bryson. Hilarious and heartwarming, Bryson's account of hiking the Appalachian Trail is sure to give you a good laugh.
The $64 Tomato by William Alexander. One man's desire to have a vegetable garden is hilariously threatened by the weeds, weather, pests and local vermin (read: deer).
All of these suggestions are available for checkout for our members here at the Helen Fowler Library. Please come visit next time you're at the Gardens.