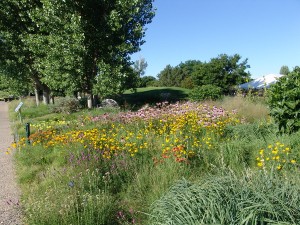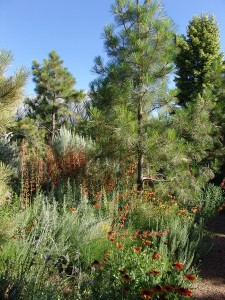 As you enter the Gardens, creating a sense of place are the three landscapes bordering the three sides of the Amphitheatre. Exhibiting dominant tree species of Colorado's three major life zones; the plains, foothills and subalpine are the Cottonwood, Ponderosa and Bristlecone Borders respectively, collectively known as Western Panoramas.  Planted along with the trees are the dominant forbs (herbaceous flowering plants) and grasses commonly found in these life zones. These three landscapes were designed and created in 2000 by Curator of Native Plants, Dan Johnson.
The Cottonwood Border on the west side features plains cottonwood (Populus deltoids ssp. monolifera), which are the most common broad-leaved trees of the plains (3,000 – 6,000 ft.), mostly seen along riparian corridors. Currently plants in bloom include purple coneflower (Echinacea purpurea), prairie coneflower (Ratibida columnifera), blanketflower (Gaillardia aristata) and purple prairie clover (Dalea purpurea). Predominant grass in this garden is the little bluestem (Schizachyrium scoparium). This garden is cared for by Gardener, Jacalyn Raehl.
On the east side is the Ponderosa Border featuring the Foothills habitat and the dominant tree species, Ponderosa Pine (Pinus ponderosa). The Foothills habitat ranges from 6,000 – 8,000 ft. in elevation. Predominant grass species in this garden is the pine dropseed (Blepharoneuron tricholepis) and forbs currently in bloom include the red-flowered scarlet bugler (Penstemon barbatus) and blanketflower (Gaillardia aristata). Maintained by Dan Johnson, this garden changes through the seasons with blooms throughout the growing season.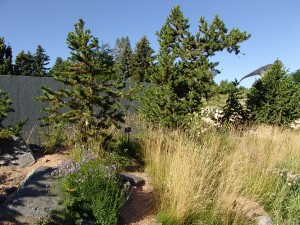 The landscape along the south side of the Amphitheater is the Bristlecone Border with Rocky Mountain bristlecone pines (Pinus aristata) of the subalpine zone at elevations of 10,000 – 11,500 ft. The newly painted wall creates a perfect backdrop emphasizing the shape and structure of these majestic trees. The predominant grass in this garden is the Idaho fescue (Festuca idahoensis). Blooming right now in the garden are the lavender colored harebell (Campanula rotundifolia) and the Aspen fleabane (Erigeron speciosus). This garden is cared for by Senior Horticulturist, Dominique Bayne.