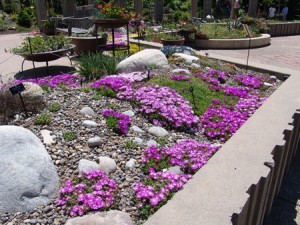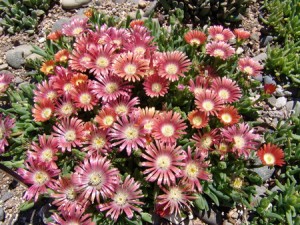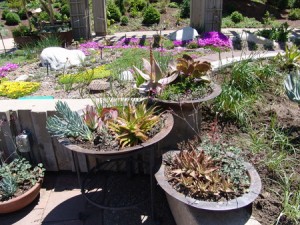 As I stroll through the Gardens every week, I am constantly amazed at how each garden changes from week to week or even day to day. I am fortunate I have the luxury to witness this weekly transformation and would like to bring this to you through this blog by featuring a garden each week.
This week, the must see garden is the South African Plaza. This garden showcases hardy and non-hardy South African flora that perform well in Denver. Many of the collections in this garden have come from plant exploration trips to South Africa conducted by our Director of Outreach, Panayoti Kelaidis. The gems of this garden are the iceplants, Delosperma spp., which are currently in full bloom. These amazing, low growing plants put on a floral show like none other. A few currently in bloom are the orange flowered Delosperma dyeri, the white Delosperma'White Nugget', the salmon-pink flowered MESA VERDE® Ice Plant Delosperma 'Kelaidis', fuchsia colored TABLE MOUNTAIN® Ice Plant Delosperma 'John Proffitt' and the yellow D. nubigenum. Maintained immaculately by Horticulturist, Mike Kintgen, new plants are added to this garden each year to test their hardiness and performance in our climate. Mike also showcases non-hardy South African plants in beautiful container combinations each season.
The South African Plaza was built in 2001 and this is one of the gardens with the most comprehensive collections of Kniphofia species and hybrids and Delosperma in the United States. Denver Botanic Gardens is one of few public gardens with a collection devoted solely to cold hardy South African flora. So, stop by in the next week or so and absorb this garden in its full glory.