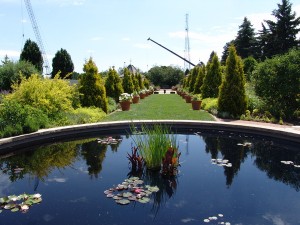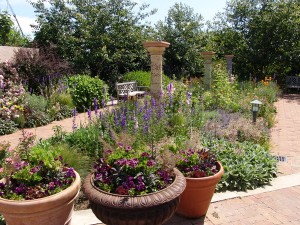 My favorite garden this week is the Schlessman Plaza and Fragrance Garden, which along with the El Pomar Waterway and the O'Fallon Perennial Walk constitutes the Romantic Gardens. This garden is currently at peak bloom and the newly painted stucco walls provide a bold background that helps the plants pop out in the beds. This garden was designed as a traditional pleasure garden providing a romantic setting for weddings and other events. Artful plantings provide beauty and fragrance as you stroll through the curving walkways, arches, gazebos and columns.
Built in 1998, the main features of this garden include the plaza area with twin pavilions, a circular pool at the end of a central lawn walkway from the plaza featuring waterlilies and lotuses, a raised bed along the north wall featuring fragrant plants, a curving walkway on the south side framed by arbors featuring fragrant roses, honeysuckle and wisteria and beds east of the plaza with pillars painted in whimsical colors featuring roses, artemesia, delphinium, thyme, scented geraniums and other fragrant plants. This garden also features stunning containers in unique plant combinations. Under the expert care of Senior Horticulturist, Loddie Dolinski, this garden has flourished over the years. A group of dedicated volunteers assist with the maintenance of this garden on a weekly basis.
So, come on by and stroll through this garden and take in the sights and smells while it is at its peak.