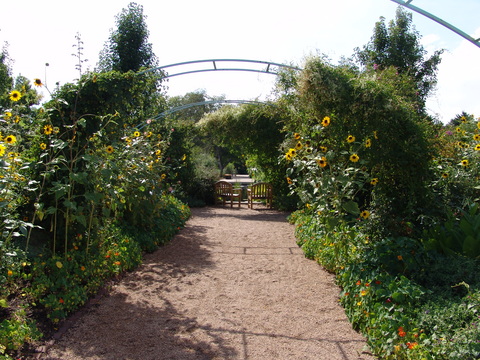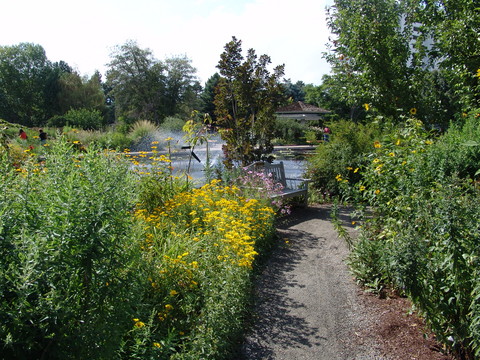 "Then all of a sudden I had the revelation of how enchanting my pond was. I took up my palette. Since then I have hardly had any other subject."  Claude Monet, 1924
Built in 1999, the inspiration for the creation of the Monet Garden was the "Impressionism: Paintings Collected by European Museums" exhibit at the Denver Art Museum which included five paintings by Impressionist landscape painter Claude Monet (1840 – 1926). Monet was also a great gardener and at his home in Giverny, France, he grew formal beds of flowers and fruit trees and built an elaborate water garden, from which he drew inspiration and spent 20 years of his life painting waterlilies.
For over ten years, visitors to Denver Botanic Gardens have seen a piece of Monet's garden at Giverny with its beautifully lined rows of beds with brilliant tulips in the spring and nasturtiums, yarrow (Achillea millefolium), sunflowers, cosmos, morning glories and hollyhocks in the summer with  the water garden providing the perfect backdrop. Also featured are espaliered apple trees. Espalier is a horticultural technique of training trees through selective pruning to create two-dimensional patterns, which was also a method to conserve space.
After ten years, it is time for change. As part of our Master Development Plan, the space occupied by the Monet Garden will be converted to the Darlene Radichel Plant Select Garden. The water gardens will continue to enthrall our visitors with their dramatic aquatic displays. The new Plant Select Garden will feature a significant part of who we are by displaying Plant Select plants, most of which have a historical connection with the Gardens and our horticultural program. The Monet Garden, maintained beautifully by Gardener Sonya Anderson, is at its peak now. This is a perfect time to enjoy this garden before we start renovation work in late September.