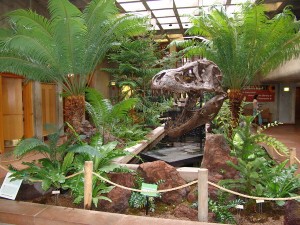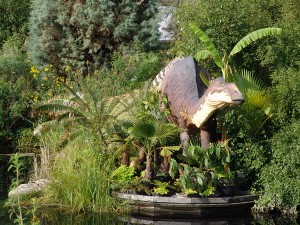 Though not located in a single location, complementing our 2009 signature exhibition, Jurassic Gardens, plantings are distributed throughout the Gardens. This exhibition features life-sized dinosaurs that roamed our planet during a time span of 280 to 65 million years ago. During this time, before the explosion of angiosperms (flowering plants), the landscape was dominated by bryophytes (mosses), pteridophytes (ferns) and gymnosperms (conifers, ginkgo, cycads, etc.). Throughout the Gardens, on display are some of the modern relatives of plant species that existed during this period.
As you enter the Gardens, the Crossroads provides a sampling of plants of ancient plant families which includes ferns, horsetails (Equisetum sp.), cycads, Ginkgo biloba, monkey puzzle tree (Araucaria araucana), and magnolia. This display of plants showcases the evolution of plant adaptations as the spore bearing plants (ferns and horsetails) transitioned to plants with naked seeds (gymnosperms) followed by flowering plants (angiosperms).
In the lobby court, ferns and gymnosperms (cycads and conifers) are mainly featured. A few plants on display include ferns and tree ferns, Cycas revoluta, Araucaria heterophylla and Podocarpus sp. Many of these same plants are on display at the Gates Montane Garden, creating a prehistoric jungle effect, with a great view from the Plains Garden across the pond.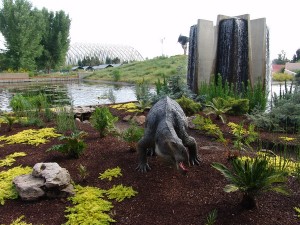 The plantings in the West Fountain Bed mimic a marsh habitat providing insight into the diet of herbivorous dinosaurs. Featured plants include conifers, cycads, ferns and horsetails. Throughout the Gardens, interpretation panels provide educational information about each of the dinosaurs and related botanical facts. The Jurassic Gardens exhibit runs through September 30.