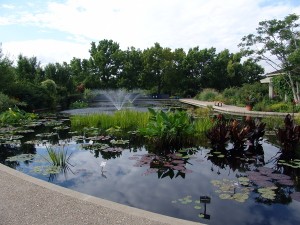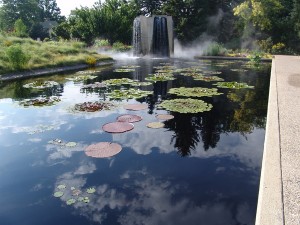 The water gardens at Denver Botanic Gardens, despite their slow start this spring on account of hail and cooler weather could not be more spectacular than it is right now. Artistically choreographed by Joe Tomocik, Curator of Aquatic Collections, our aquatic displays are one of the best in the country. Assisting Joe every year with installation and dismantling of the displays are volunteers from the Colorado Water Garden Society.
In the Monet pool, the numerous cultivars of waterlilies and lotuses are beautifully intermingled with tropical marginal plants such as taro (Colocasia esculenta), water canna (Canna cvs.), papyrus (Cyperus papyrus), and red-stemmed thalia (Thalia geniculata forma rhuminoides.)
The Victoria pool with the four tower fountains features the Victoria waterlilies (Victoria amazonica and V. cruziana). Though they do not attain their full size in our pools due to our short growing season and cool water temperature, they are still spectacular to look at. Also featured in this pool is the newly named white waterlily Nymphea 'Bea Taplin' named in honor of a long time supporter of the Gardens, Mrs. Bea Taplin.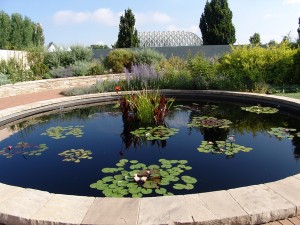 The Romantic pool in the Schlessman Fragrance Garden features the Rocky Mountain Legacy Collection, a collection of eight outstanding waterlilies, evaluated, named and introduced by Denver Botanic Gardens through trials performed by Joe. The Bea Taplin waterlily will be the ninth waterlily to join the ranks of the Rocky Mountain Legacy Collection. 
The lotuses (Nelumbo cultivars) are two weeks late to bloom this year. They are at their peak right now. Don't forget to also visit the Japanese Garden pond, where the lotuses at the edge of the pond framing the moon deck are eye-popping!