Fat Tuesday on Friday
January 25, 2018
Special Events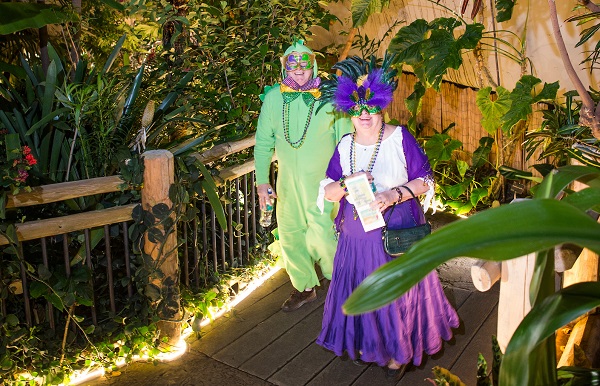 Why wait for Feb. 13 to bust out your beads and crank up your jazz playlist? Join us for Off the Clock: Cajun Carnival this Friday, Feb. 2 from 6-9 p.m. for a festive Mardi Gras celebration in the stunning indoor spaces at the Gardens.
Open to everyone (but geared toward adults), each Off the Clock event harnesses a different theme to curate music, hands-on activities, live entertainment and special menu items that transport guests to another world. For Cajun Carnival, one of our most popular themes, we have quite the night planned!
Live Music
Back by popular demand, dance the night away to the upbeat music of Queen City Jazz in Mitchell Hall.
Looking for piano jazz? David Grimsland will transform Marnie's Pavilion into a piano bar and will take requests for songs the entire evening.
Make Something to Take Home
Let your inner child out to play in our craft and cookie decorating room. Masks, crowns, and Mardi Gras decorations are all yours to make and keep. The cookies are too, though we doubt they'll make it all the way home.
Street Performers
What's a Mardi Gras celebration without a stiltwalker? You can find one in the Boettcher Lobby.
Don't miss performances from a juggler and a diabolo performer in Mitchell Hall while the band is on break.
Food for Your Brain
Catch up with our docents in the Boettcher Memorial Tropical Conservatory to learn more about the exotic plants (and animals!) that live in our indoor rainforest.
Compete for fun Mardi Gras prizes by solving riddles and answering trivia. Who doesn't need a rubber duck wearing a purple mask?
Looking for guidance? Enjoy a free tarot card reading in the Orangery. And while you wait, relish the beauty of the Orchid Showcase on display.
Food for Your Belly
Offshoots Café will be open offering its full menu, but it will also feature some New Orleans favorites as specials. Get it early, specials may sell out!
Swing by one of our two cash bars for beer, wine or cocktails. Both cash and credit will be accepted at each bar!
So step inside from the chilly February air and celebrate with us in style this Friday! Tickets are limited and a sellout is anticipated, so purchase your tickets today online or at the Bonfils-Stanton Visitor Center. Ticket prices go up at the door.
Mardi Gras not your style? Check out our other upcoming Off the Clock events:
Kilts & Clovers March 2, 2018 Back by popular demand! Celebrate the British Isles and the imminent return of all things green. Hear traditional Celtic live music, feel the rhythms of the Isles with dance performances from the ever-popular Celtic Steps, make your very own pot of gold, and come in your favorite Celtic attire to really get into the spirit of the event!
Two Step 'n Tulips April 6, 2018 Pull on your boots and your blue jeans for good ol' country fun! Dance the night away to live, foot-stomping music, take a dance lesson to brush up your skills on the floor, and get crafty with a hands-on activity to kick off the return of spring flowers.