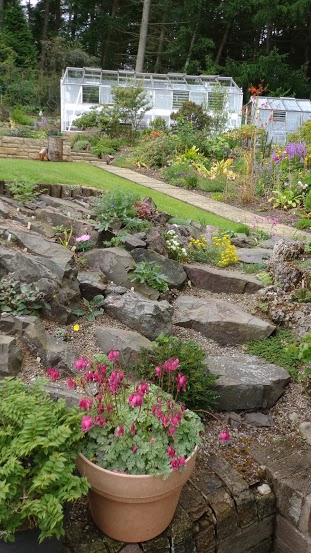 The Japanese have a word for it: "shibui" (渋い) the perfect blend of texture, mood--the balance between simplicity and complexity. It can be applied to a perfectly cast pot, or to a landscape that is both natural, but containing human elements in it. "Simple elegance" in English just doesn't capture it. Tolstoy and Flaubert exemplify shibui, Vivaldi, Mozart and Dvorak as well--and the great gardens of Europe time and again capture the magic of the vignette and yet have the vista in perfect balance, as in this amazing garden by Cyril Lafong--one of the greatest Scottish gardeners. A physician in his other life, he has a garden of enormous beauty and full of literally thousands of the most challenging and wonderful alpines and perennials--all grown to perfection! The plant in the pot, by the way, is a Dicentra hybrid (Rokujo type: Japanese Dicentra peregrina crossed with an American species).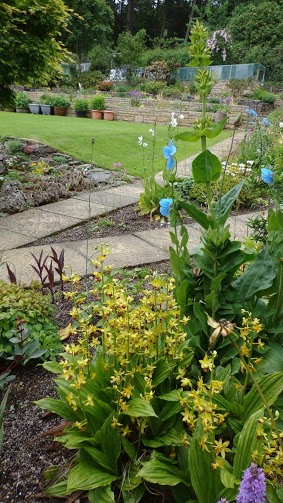 Vista with Calanthe and Blue poppy in foreground
Cyril's garden was in peak bloom last June when I visited. He had quite a few clumps of the wonderful yellow Calanthe tricarinata and a blue Meconopsis (possibly grandis). I have described Cyril's garden much more fully in another blog, but share these pictures deep in Colorado winter as a teaser for an upcoming class, discussed below.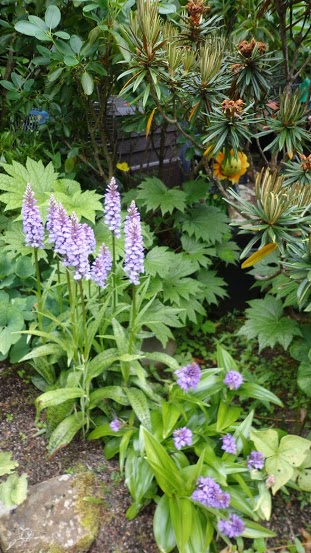 Two species of Dactylorhiza (European orchids) naturalized in Cyril's garden
June in Scotland means Dactylorhiza, the wonderful European meadow orchids that grow by the hundred in most of the gardens I visited--mostly self sown seedlings! This sort of natural elegance makes European gardens incredibly appealing--whether they are private gardens like Cyril's or the great botanic gardens of Britain or Continental Europe. I was invited to give talks in Sweden last April, then in Germany in early May (and then again in Scotland in June! a banner year!). I took the opportunity to visit almost a dozen botanic gardens and many private gardens and nurseries.
This Thursday I am doing a talk on these for our education program at Cherokee Ranch's wonderful Castle. Sign up for "Lecture: Great Gardens of Northern Europe" and you can enjoy a wonderful evening of escape to the gorgeous gardens of Europe where you can get ideas and inspiration--and perhaps get a glimmer of how to bring a bit of shibui to your own home garden as well. I hope I shall see you there!