The first concerts of the 2013 season are quickly approaching. Gardens' member Rick Hum will again be providing us with some interesting background facts about each of the concert artists. Rick became a member of the Gardens in 2002 and has been to most of the Gardens concerts in past years. Rick has been contributing to our blog since 2009. Thanks, Rick, for sharing your pre-concert artist research with us! Time to get up and dance, everyone!
Here is the post from Rick:
What a treat, to start the season with two great shows. Emmylou Harris (12 Grammys) & Rodney Crowell first worked together almost 40 years ago and now reunite for their new album Old Yellow Moon. Tony Bennett (17 Grammys) started his career over 60 years ago and has excited new generations with his duet albums. At these show Tony Bennett will be joined by his youngest daughter Antonia, a jazz singer.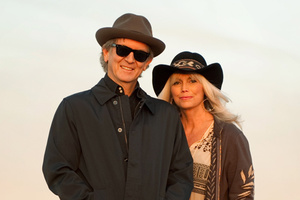 Monday, June 17, 7 p.m.
Emmylou Harris & Rodney Crowell
York Street - SOLD OUT! 
Emmylou Harris was born on April 2, 1947 in Birmingham, Alabama. Her father, Walter Harris, was a prisoner of war for 10 months during 1950 in Korea. Emmylou and her mother lived in North Carolina, then Woodbridge, Virginia. She won a drama scholarship to UNC at Greensboro where she began to study music. She learned to play the songs of current folk singers and left school to pursue a musical career in NYC. She worked as a waitress to support herself and her baby Hallie while performing in Greenwich Village coffee houses. She moved in with her parents in Maryland, close to Washington D.C. While performing with a trio one night in 1971 Chris Hillman happened to be in the audience. Hillman was so impressed he thought of asking Harris to join his new band, but instead recommended her to Gram Parsons. Emmylou toured with Parsons' band the Fallen Angels in 1973. The harmonies of Parsons and Harris shone. Parsons died of an accidental overdose of drugs and alcohol alone in a motel room near Joshua Tree National Park. Duets with Parsons and Harris were released posthumously. 
 
Rodney Crowell was born on August 7, 1950 in Crosby, Texas, to James Walter Crowell and Addie Cauzette Willoughby. He came from a musical family, with one grandfather being a church choir leader and the other a bluegrass banjo player. In his teen years, he played in various garage rock bands in Houston, performing hits of the day mixed with a few country numbers. In August 1972 he moved to Nashville in search of a musical career and got a job as a songwriter after being discovered by Jerry Reed.
Brian Ahern, working for Warner Brothers, produced Emmylou's first album in 1975. The album was surprisingly eclectic by Nashville standards and included Bluebird Wine written by Rodney Crowell. Warner Brothers told Emmylou they would agree to another record if she got a hot band. Harris did so by enlisting Glen Hardin and James Burton, who were currently part of Elvis Presley's band. The Hot Band lived up to its name but many of the players returned to their former bands or moved on to solo careers. Rodney Crowell joined the Hot Band as others left.
Old Yellow Moon was released this spring and reunites Emmylou and Rodney. Their creative partnership began in 1974 shortly after the death of Gram Parsons. In the March opening of the tour in New York, Crowell praised Harris as having "the soul of a poet, the voice of an angel and the heart of a cowgirl."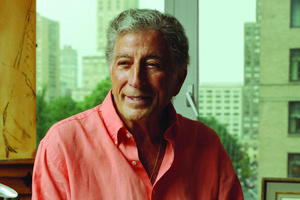 Tuesday & Wednesday, June 18 & 19, 7 p.m.
Tony Bennett & Antonia Bennett
York Street
TICKETS STILL AVAILABLE FOR BOTH NIGHTS!
Tony Bennett has released 70 albums. He has been honored for his remarkable, enduring career. In addition to his 17 Grammys and two Emmys he has been honored with many lifetime achievement awards, a Kennedy Center Award and by the United Nations with its Citizen of the World Award.
He was born Antonio Dominick Benedetto on August 3, 1926. His father was a grocer and his mother a seamstress. His uncle was library commissioner for Queens and got him an opportunity to sing at the opening of the Triborough Bridge at the age of 10. He studied music and painting at the NY High School of Industrial Arts, but dropped out at the age of 16 to help support his family. He got a job as a singing waiter. Benedetto was drafted into the Army near the end of World War II. He served near the front lines and was involved in the liberation of Nazi concentration camp at Landsberg, Germany. When the war ended, he sang with the Army military band under the stage name of Joe Bari. He studied Bel Canto singing discipline at the American Theater Wing on the GI Bill while he continued signing and waiting tables. He won a number of local talent shows and was invited on a concert tour by Bob Hope, who suggested he use the name Tony Bennett. In the 1950s he had many #1 hits working with Mitch Miller and Percy Faith. He also hosted a TV summer show replacing the Perry Como show. He recorded with many of the top jazz musicians of the day and was a very popular artist, especially in New York. In the 1960s the rock scene created a new music audience. Bennett's career and personal life went into a decline. In 1979 he asked his son Danny Bennett for advice. Danny took over as his manager and guided him into the MTV era and connected Tony Bennett with many popular artists. He released duets albums on his 80th and 85th birthdays.
In addition to his musical career, he was active in the Civil Rights movement of the 1960's and is a successful painter (his paintings are created under the name of Anthony Benedetto or just Benedetto).