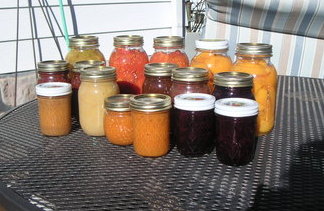 Dinner last night was homemade pizza, featuring homegrown basil pesto, tomatoes from my garden, and red peppers, picked from the garden and roasted till the skins fell off. Dessert was a cobbler of farmer's market Colorado peaches, and blackberries from my incredibly prolific vines. No, you're not in a time warp, it is most definitely February in Colorado!
How did I manage such a local feast, with its welcome taste of warmer weather? Last summer, I set out to see how close to home I could eat. I figured anything would help, and decided not to be hard on myself for "exotics" that I love--bananas, mango, pineapple--or staples that would likely be impossible or expensive to find a local source for--grains like pasta, rice and flour, nuts, dairy, and so on. I wanted eating more locally to fit into my relatively normal life.
My normal life definitely includes gardening; even in my bungalow garden I can grow quite a lot. Then there is "putting up"--freezing, drying, canning--which I enjoy but which happens more or less all at once, making my August and September crazy-busy. And finally come long winter months of minestrone soups with Colorado corn and my green beans and tomatoes, applesauce cake, spaghetti sauce with my canned tomatoes and homegrown garlic, snacks of dried apricots and peaches, breakfasts of toast with strawberry, blackberry, peach, or apricot jam and yogurt with canned peaches or rhubarb, even lemon bars with the harvest of my indoor/outdoor lemon tree...
I find that, with the sole goal of using up the pantry goods and making space in the freezer, I have eaten something local every day this winter; most days, every meal features at least one and often several Colorado-grown ingredients. My grocery bills are under control, and perhaps I have contributed to keeping a bit more carbon out of the atmosphere. Mostly, I feel in touch with the seasons and connected to my food and my region, and sympathetic to our pioneer predecessors who knew what it meant to live off the land!