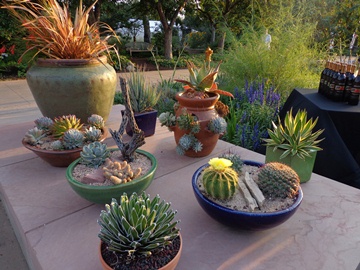 Dylan Thomas was referring to something a tad different in his great poem, but for true gardeners, the declining light of late summer bodes many things. Dawn and twilight become protracted this time of year, and seemingly magical in their light: the backlight on trees and shrubs, even container plantings (I took the picture above a few evenings ago) seem to add a golden patina. Life is sweet, we think. And quietly we dread the dying of the light.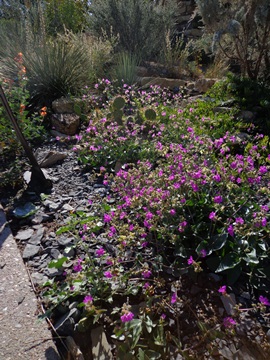 I took this picture early yesterday--this is a rare endemic four o'clock from South Central Colorado we have grown for decades here at the gardens: later in the day the color washes out. By afternoon the flowers are closed. So catching this and similar plants in a flattering light is a challenge.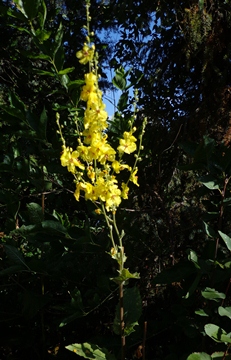 You can perform some pretty neat tricks in angled light: here this unusual mullein glows against the black background caused by the late time of day I took it. Earlier in the day, the light would have been brash and the background would have drowned the flower in busy foliage. Such are the blessings of the dying light!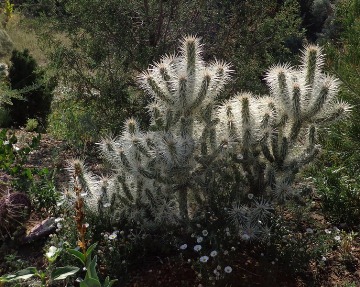 Cactus spines are especially beautiful in late or early light: even devout cactus haters have to reconsider when they see this vicious cholla glowing like a polar bear. Of course, polar bears bite too!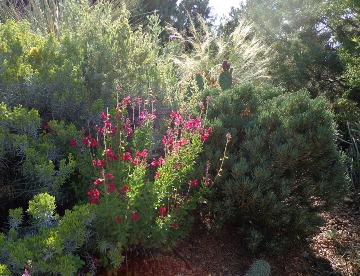 There is something about reds that make for especially brilliant color in late light. I have done a separate blog on this subject you may want to check out...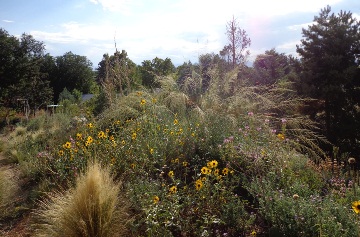 But grasses are the queens of backlight. This happens to be in my home garden, but we have giant sacaton everywhere at DBG, some of them monumental. These and the myriad Miscanthus, Stipa and a dozen other genera of large grasses are putting on a veritable light show in the early morning or evening light. The Gardens are open evenings for the next month--I think that coming to enjoy these spectacular light effects is reason enough to visit. Not to mention that there is no lovelier place on Planet Earth right now than Denver Botanic Gardens! In the waning of the year, the twilight beauty of the Gardens will help stall, to relish and to capture: to detain the dying of the light.