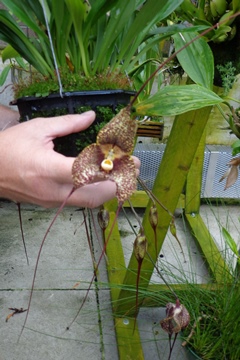 Dracula chiroptera
Nick Snakenberg, our curator of orchid collections, is justifiably proud of his collection of Draculas. Over the past few months he has leeringly invited various staff walking by to admire these exotic and stunning orchids from South America, which he is able to grow superbly in the cool orchid greenhouse (alas! not open to the public).
Now that I have lured YOU to read this, I want to get to a second theme of this blog (the first theme is that there is no end of wonderful and strange plants lurking at Denver Botanic Gardens!). The second theme is that our website is a vast portal to the Plant Kingdom. If you have not already done so, click on the Gardens Navigator link (I've made it easy for you--just click on this last highlighted link and it will waft you there!). You can otherwise find the Gardens Navigator as the third link under "Gardening Resources" in our website navigation. If you have not already done so, click on the first "Search for Plants" bar and type in the name of a plant you have seen or admired at Denver Botanic Gardens. As often as not, you will find a host of pictures of the plant taken at the Gardens, as well as all the locations of the plant at the Gardens pinpointed on a map. If you put in this orchid, no picture appears....yet! Give our plant records department a few months and I suspect there will be.
The Plant Records department, headed by Cindy Newlander, is responsible for this amazing Web presence. Cindy has told me that a handful of gardens are employing something comparable. I certainly know of no garden the size of Denver Botanic Gardens, nor with the scope of our collections, which has this precise of a tool to allow visitors to locate plants and visit with them virtually. I have asked many friends and associates in recent weeks if they know about this amazing function: practically none of them do...
Cindy assures me that this site gets a lot of visitation--but I suspect it merits much more. Although I have strolled and studied our collections ongoingly for 34 consecutive years, I have been astonished at how much I have learned about the plants here by exploring this amazing function. If someone had told me that this would be accomplished so thoroughly and accurately even a few years ago I would have never believed it.
It is a testament to Cindy and her amazing staff, and corps of interns and volunteers, that they have managed to get a handle on our truly vast collections. A botanic garden is defined by dictionaries as "a collection of plants"--I doubt that any botanic garden can boast more transparent and accessible collections than us. I think Plant Records deserves resounding applause for what they have accomplished. I, for one, am amazed and delighted by their work.