When you visit this week, here are a few things to see: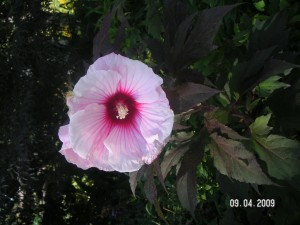 A Touch of the Tropics: Though we think of hibiscus as a tropical or house plant, a number of hardy varieties make a splash this time of year. Hibiscus moscheutos has nearly dinner-plate size flowers in reds, pinks, and white. Check out the pink-streaked version along Shady Lane, which features a beautiful reddish leaf as well. The lovely Rose of Sharon bushes that bloom in lavenders, whites, and pinks all over town in late summer are also a hibiscus: Hibiscus syriacus.
Happy to be Dry: Sprays of tiny lavender flowers characterize the Sea Lavender, seen in the Water-Smart Garden as well as in the Perennial Walk. Not a lavender at all, these plants are similar to Statice, in that they are dry to the touch.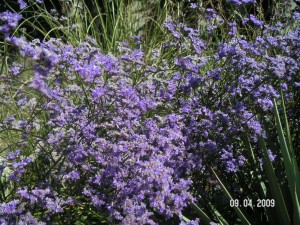 Likewise, check out the brilliantly colored Strawflowers, planted as annuals in the Monet Garden and the temporary Cutting Garden. They are irresistible to touch--go ahead!
Odds and Ends: The golden Lysimachia aurea, also known as Creeping Jenny, is really spreading nicely in the Fountain Beds. It is a lovely, but not xeric, groundcover that also comes in a deep green version. Head to the Water-Smart Garden to see the Snow Buckwheat in full bloom—covered in white "snow."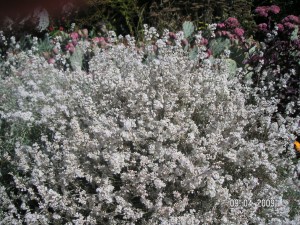 And detour behind the Victorian Secret Garden to catch a deep purple Angelica blooming, surrounded by a brilliant color-scheme of pink zinnias and leafy plants in golden-green and purple-green.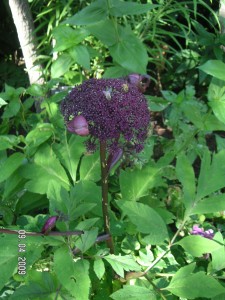 Favorite lunch spot this week: Enjoy the shady bench in the Victorian Secret Garden, which is a-bloom with plants both exotic (a sprouting coconut) and mundane (decorative cabbage).
Gardens to spend time in: Monet Garden, especially the colorful collection of annuals in the front beds; Victorian Secret Garden, both in front and behind; and All-America Selections Garden, which continues to say, "Look at me!"