A few things to see in the Gardens this week...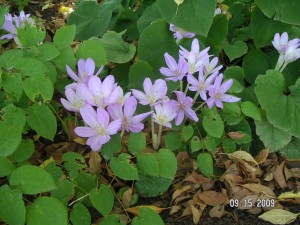 • Fall Flowers: While many blooms fade this time of year, some are just getting going! Among them, tall perennial Asters, Colchicum and fall-blooming crocuses, Goldenrod, deep blue Aconitum (Monk's Hood) and of course Chrysanthemums.
• Be sure to admire the luxurious Silver Lace Vine—another excellent form of Polygonum—draped over the arches that frame the view of the pond from the Monet Garden.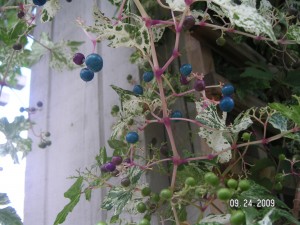 • Pods and Berries: The Rose Garden Pergola supports two remarkable versions of Porcelain Berry Vine (Ampelopsis)—a variegated and a green leaf version. The really cool thing, though, is the berries, which can be purple, turquoise, magenta, green, and orange—all at the same time!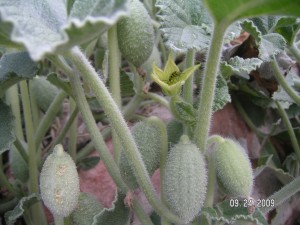 Also in the believe-it-or-not category, the Squirting Cucumber plant (Ecballium elaterium) has pods that explode when you touch them once they are ripe enough, scaring the socks off you. Find this plant by the door to the Cactus and Succulent House. And a personal underdog favorite: the variegated Pokeweed (Phytolacca 'Silberstein') in the Birds and Bees Walk, with beautiful purple-black berry clusters.
• Favorite lunch spot this week: A low-to-the-ground bench just upslope from the Cactus and Succulent House gives you a sunny spot and a gentle view of some of the Rock Alpine Garden.
• Gardens to spend time in: Birds and Bees Walk is one of my favorite places to watch the colors change. The Rock Alpine Garden has a completely different, but pleasing, fall beauty.