Fall is an amazing time in the Gardens! Be sure to take advantage of blue skies and cooler temperatures--come to the Gardens and enjoy these beauties.  Here are a few things to look for this week.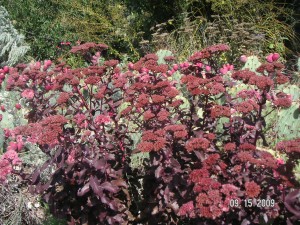 • The Joy of Succulents: While spring belongs to Delosperma, fall showcases a number of sedums, which flower or otherwise show off this time of year.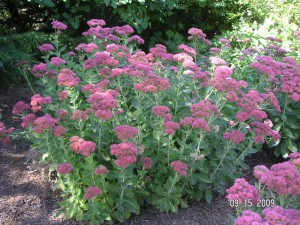 Cultivars 'Indian Chief,' 'Brilliant,' 'Purple Emperor,' and 'Autumn Fire' give you an idea of the color palate you can see in these tough, xeric plants. And as a ground cover, Sedum 'Angelina' can't be topped for a range of color from golden-green through orange and red.
• Also in the succulent category, admire the bright red fruit of the Prickly Pear cactus, and the yellow fruit of the Tree Cholla. And be sure to catch the succulents in the containers at South African Plaza before they go inside for the winter—you'll see a huge variety of colors, shapes, and textures there.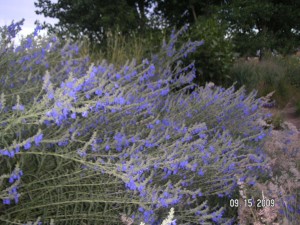 • Odds and Ends: Check out the stunning samples of Salvia azurea in the Cottonwood Border, and while you're there, take a look at the Lespedeza covered in bright pink flowers nearby. Another fun pink flower to know is the Chelone (also known as Turtlehead) blooming just south of the gazebo in the Victorian Secret Garden.
• Favorite lunch spot this week: Find the bench facing northeast in South African Plaza, and admire the waving grasses and the containers full of succulents.
• Gardens to spend time in: Shady Lane is transformed by giant purple Colchicum; the Rose Garden thinks it's June; Wildflower Treasures is full of late blooms and interesting seed pods; South African Plaza continues to delight with Leonotis and Gomphocarpus.