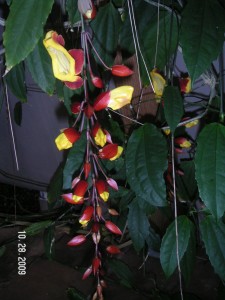 If you already need a break from the winter weather, there is no better place to spend time than in our Boettcher Memorial Tropical Conservatory. With a fairly constant temperature and humidity level, and year-round lush greens and bright colors, you can count on feeling as though you have entered another world each time you step through the doors. The first thing I always do when I walk in is take a deep breath; the fragrance alone is worth the trip.
• Always a crowd pleaser, the Clock Vine (Thunbergia mysorensis) grows on the trellis on the second level, around the corner from the frogs. It is named after Carl Thunberg, a prolific Swedish scientist. Once you know his name, you'll see it on all kinds of plants. Native to the tropics of India, it is also known as Doll's Shoes, for the delicate shape of the maroon and yellow blossoms. But why it is called Clock Vine? I have not been able to find out—any ideas?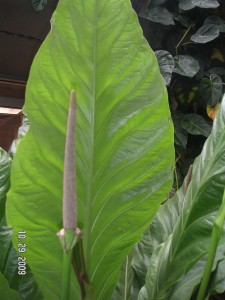 • Sometimes, when I go into the Boettcher Memorial Conservatory, I am looking for Big Leaves. Big Leaves really make me feel as though I am somewhere tropical. You can't get a whole lot bigger than Anthurium hookeri 'Big Bird', a really big member of the Arum family (think of the Peace Lily.)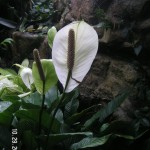 Arum family members have flowers composed of a spadix (the tall, thin, phallic part) often surrounded by a spathe (a kind of hood.) Some members of the family (though not 'Big Bird') have a scent like rotting flesh, to attract the flies that pollinate it, and their flowers can generate heat over 100 degrees Fahrenheit, which furthers the impression of freshly dead meat! Cool! Find this plant, with its broad leaves that are three or four feet tall, on the left side of the left-hand path, just at the first bend in the path.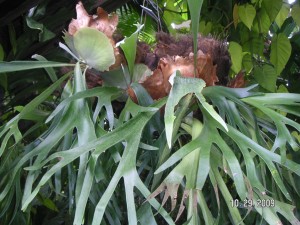 • As you wander the Boettcher Memorial Conservatory, you'll see several examples of Staghorn Fern (Platycerium), a well-named epiphyte with fronds shaped like an elk's antlers. Epiphytes are plants that do not need to be planted in soil; instead, they attach to trees or other surfaces, and gather the nutrients they need strictly from the air. In the case of the Staghorn, you will notice a flat, roundish frond that attaches to the tree and protects the roots, and then the antler-shaped fronds that reach into the air to grab moisture and nutrients. Take a close look at this plant, to see the new fronds unfurling and the basal frond as it attaches to a surface. Like other ferns, this plant reproduces by spores; see if you can detect them on the back of the fronds. They present as fuzzy brown patches.