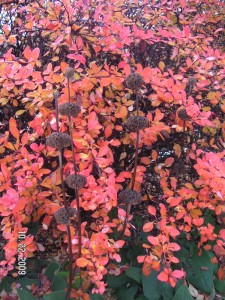 Autumn is an evocative season for me; the smell of wet leaves and pine needles, the slant of the sun, the colors fading and creating impressionist collages—all of it makes me feel both cozy and reenergized. Take a walk in the Gardens to really connect with the season.
• Standouts in the Fall Color category this week include members of the Barberry family (Berberis). Some spend the summer purple, some green, but this time of year they show fiery shades of red and orange, and often present oval red berries. Also admire the brilliant red berries on the Winterberry bush (Ilex verticillata) in the Birds and Bees Garden.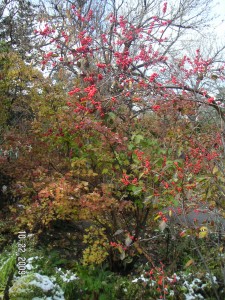 • Don't forget to look down; you'll notice a lot of low-growing color. Perennial Walk offers a particularly good example of Polygonum, and you can find plenty of low-growing Sumac (Rhus aromatica) spread beneath the trees in the Ponderosa Border.
• One of the best fall times to take a walk here is the day after a snow or rain. Kick the leaves under your feet, and take a deep breath of the wet, rich, and fragrant plants and soil. Enjoy vistas opening up as trees shed their leaves, and notice the juxtaposition of color and texture on the ground and in the water.
• Favorite lunch spot this week: Sit by the pond in the Plains Garden, and enjoy the reflections of leaves in the water.
• Gardens to spend time in: Anywhere there is a woods—Birds and Bees Walk, Oak Grove, Woodland Mosaic, PlantAsia, Montane Garden—is a wonderful place to head on a fall day, wet or dry.