Ahh, Colorado! You gotta love it: 17 degrees last weekend, 70 degrees this weekend. This year, we did not go gently into winter cold—we were thrown in head first—and many of our plants are reflecting that. Still, there is plenty to enjoy on a crisp autumn day.
• You can still find flowers blooming in the sunshine, a testament to the hardiness of much of what grows here. Yesterday, a bright yellow Trollius caught my eye in the Perennial Walk, and the purple Asters are poised for a comeback as warmer weather returns.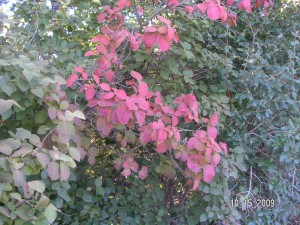 • But to enjoy the season at its best, now is the time to step back from individual plants and admire sweeps of color and texture. Enjoy the reds and golds, browns and greens. Plenty of beautiful leaves remain: Korean Spice Viburnum (Viburnum carlesii) and Rowan (Sorbus aucuparia) in the Birds and Bees Garden,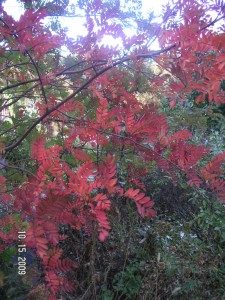 Euonymous (Burning Bush) in the Rock Alpine Garden, and several beautiful red Shumard Oaks (Quercus shumardii) throughout the Gardens, among others.
• Now is also a fine time to notice the tall grasses, both in our ornamental grass garden and throughout the grounds. I was struck by the sunlight streaming through stands of Miscanthus sinensis 'Yaku Jima' in the Japanese Garden.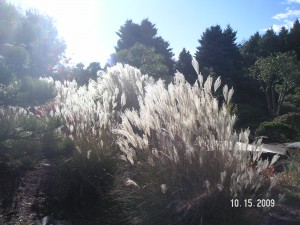 • Favorite lunch spot this week: The Knot Garden is looking fairly untouched by the hard frost. Pick a bench to contemplate the serene lines and harmony of this small garden.
• Gardens to spend time in: The Japanese Garden, lovely year round, really comes into its own in fall and winter when it is an oasis of peaceful beauty. Or, walk the "secret" path in the Oak Grove through the woods, kicking acorns under your feet. Also, both the Knot and the Scripture Gardens have a calm dignity, perfect for contemplation.