Even as the season changes, there are still plenty of plants worth seeking out in the Gardens. Here are a few examples: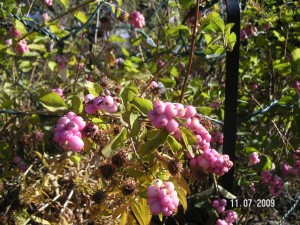 • My, You Have Great Berries: Botanical names, generally derived from Latin or Greek, can reveal a lot about a plant. Symphoricarpos, with a bit of translation, tells you what to look for when you are hunting down Coral Berries or Snow Berries. "Carpos", from the Greek, refers to the fruit of a plant, generally used for berries. "Symphori", as you might guess, refers to a clump, cluster or gathering (think symphony) of berries. This small shrub keeps its white or pink berries well into the winter. See a good pink example on the east side of the O'Fallon Perennial Walk.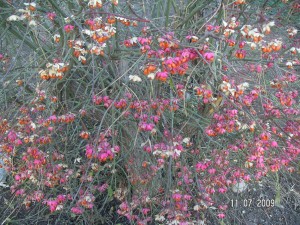 • …And More Berries: You have to go see this one: Euonymus europaeus (from the Greek "good" + "name" + "european"—not that helpful in this case!) has the wildest color scheme I've seen. The center of each berry is bright orange and the surrounding wings are an astonishing hot pink—very 70's! You can see a good example of this shrub in the Woodland Mosaic garden, near the Aspen trees. There are also two more in the Japanese Garden, but they are quite far off the path and can only be seen from a distance. (For more plant name fun, the Dave's Gardens website's botanical dictionary is a good resource.)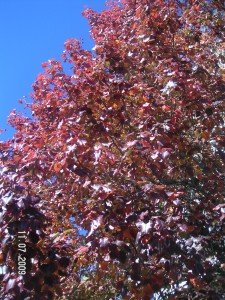 • Color: There are still some beautiful spots of fall color in the Gardens; get up on something tall, such as Anna's Overlook or the Green Roof, to see them dotted around the grounds. We have a number of Flowering Pears (Pyrus calleryana) in the Gardens, notably in the Japanese Garden and in the Monet Garden. They have been blazing here and all over town this fall, with colors ranging from golds and oranges to reds and purples, often all on the same tree! With its graceful teardrop shape, this is a tree to keep in mind, checking back in the spring when it is covered in white blossoms.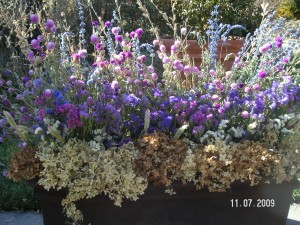 • More Color: Be sure to admire the gorgeous dried flower arrangements put together by Loddie and her volunteers in the Romantic Gardens. The colors are remarkable vivid, and the arrangements will give you a new appreciation for the art of preserving flowers.