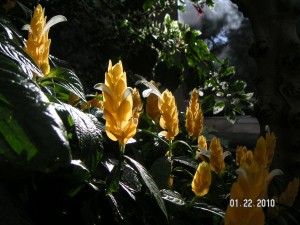 This week has been grey and nippy, and I'm in need of a splash of color. Where better to find it than in the Boettcher Memorial Tropical Conservatory! Many flowers will catch your eye as you stroll through. Here are a few that caught mine:
• The Golden Shrimp Plant, also known as the Lollipop Plant (Pachystachys lutea) is covered with yellow blooms, soaking up a moment of sun in the southwest corner of the Boettcher Memorial Conservatory. The plant's botanical name, from the Greek, is strictly descriptive: pachy means thick, stachys means flower spike, and lutea means yellow.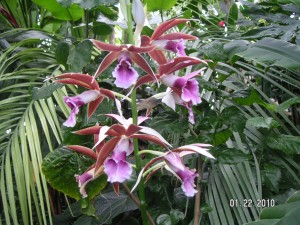 • On your way to the Lollipop Plant, stop to admire Phaius tankervilliae, a stunning member of the orchid family also known as a Nun's Cap Orchid or Swamp Lily. This winter-blooming native of the Asian tropics will retain its flowers for a long time. You will see it on your right as you head up the left-hand path.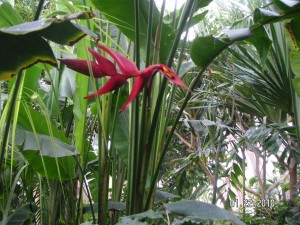 • Also on the right, just a bit further along the path, you will see the blood-red flowers of the Heliconia 'Pedro Ortiz'. Though the flowers closely resemble Bird of Paradise (Strelitzia), the enormous leaves let you know that this is something quite different! Pedro Ortiz is thought to be a natural hybrid of two other Heliconias, one of which has pendulous flowers, and the other, erect flowers. You can see that Pedro's flowers are somewhere in between.
• On the north side of the building you will find the cheerful flowers of the Red Powderpuff plant (Calliandra haematocephala). (We also grow a white version.) Numerous stamens seem to explode out, giving the inflorescences their distinctive shape. Calliandra is Greek for "beautiful stamen" and haematocephala means "blood head."