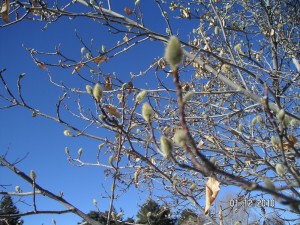 Some people coming to the Gardens this time of year are disappointed, because everything on our grounds is "dead." (Perhaps they expect that we are located in a different climate from their own backyards?) Of course, our Gardens are not dead at all, merely dormant, lying in wait for an extended stretch of longer, warmer days before they spring forth again. If you look carefully, you can see this burgeoning life everywhere.
• Magnolia trees (Magnolia var.), though not particularly well suited to our region, offer great promise in their large, fuzzy flower buds. Some springs, this promise is fulfilled in huge pink or white blooms in April or so, which last exactly until the temperature dips below freezing again. So savor the buds, since they surely last longer than the blooms! Find magnolias scattered throughout the grounds, especially in the Rock Alpine and Japanese Gardens, with particularly good examples in the Waring House Garden, which can be accessed by the public from 9th Avenue.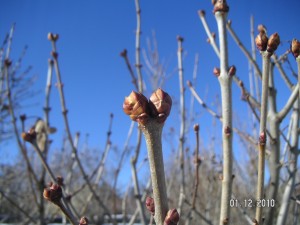 • You can just feel the excitement (well, I can!) in the Lilac Garden, where fat buds cover the bare twigs of the Lilacs (mostly Syringa var). These flower buds have been developing since shortly after last year's lilac bloom was finished (which is why you want to prune your lilac immediately after it blooms, and not now.) By this time of year, they look like they can hardly wait to pop. But they will, until about April.
• Also take a peek at the Cornelian Cherry (Cornus mas), several of which line the curvy path in the Romantic Garden. These are among the earliest spring bloomers, often breaking out in small yellow flowers in March or even sooner. You can tell they are ready and waiting: their stems are covered in round bb-sized buds.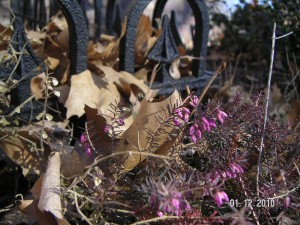 • If you find that you just can't wait for spring, you'll want to venture into the Waring House Garden, where Erica darleyensis (Heath) is already boasting tiny pink flowers. Also in this garden are some of the earliest blooming Hellebores we have here. This past week, their flowers were starting to poke out of the ground; by next week they should be standing tall. And of course, don't forget the doggedly determined and seriously misnamed Pansies, which flower all winter through snow, ice, and freezing cold.