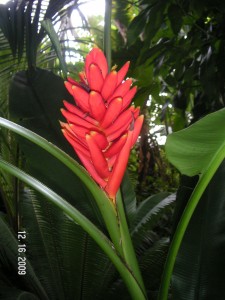 A festive holiday spirit abounds in the Boettcher Memorial Tropical Conservatory—that is, green and red are everywhere! Take a look at these Christmas-colored gifts: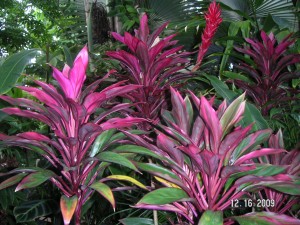 • The Ti Plant (Cordyline fruticosa) is a colorful native of southern Asia and Polynesia, and has been put to many uses by indigenous people. Its sweet, starchy roots are used as food and fermented into alcohol, and its leaves are used to thatch houses as well as to make hula skirts. Thought to bring luck and have spiritual powers, Ti is widely planted in Hawai'i and elsewhere. See it on the right side of the left-hand path. At the west end of the Boettcher Tropical Conservatory, you'll find the splendid bromeliad, Aechmea blanchetiana. With its red- and green-streaked leaves and projecting flowers, it stands out, but be careful of the saw-tooth edges of the leaves—they have a mean bite!
• Clerodendron speciosissimum, also known as Glory Bower, decks the railings of the first bridge on the left. Its scarlet flowers and deep green leaves show each other off year round, and once the flowers have fallen, they leave behind bright magenta bracts that last for quite some time. Further up the path you'll want to reach out and touch the Chenille Plant (Acalypha hispida) with its soft red tails hanging down. The plant you see is female; the male plant does not sport such fancy plumage.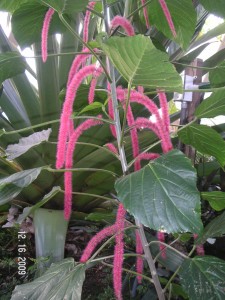 • A winner in the red and green category is the Red-Flowering Banana (Musa coccinea). See this stunning flower on the upper level path. This banana will not produce edible fruit, but we have several bananas that do. And check out the burgundy and green flowers springing up on the west end of the building. We all know this plant as an Amaryllis, a holiday favorite, but in fact its correct name is Hippeastrum papilio and it is native to tropical areas of the Americas. Take your own Hippeastrum home with you this season; white and red versions are available in our gift shop!