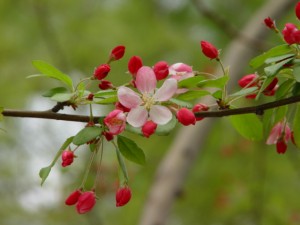 This past couple of weeks while wandering the Gardens and around Denver it seems that there is another fantastic scent greeting my nose around every corner. The cool spring seems to have slowed down the early blooming shrubs and now we have a profusion of flowers that are lasting longer than usual with the cooler temperatures that keep hitting every week (usually with a few snow flakes) helping to keep the flowers lingering.
At the Gardens, lilacs are just starting to bloom, with their sweet scent wafting throughout the Lilac Garden. And while we're in the Lilac Garden, you cannot forget to kneel down and smell some of the early blooming iris along the new pathway in the center of this garden. I found one that I swear smelled like chocolate. The crabapples have really caught my attention this year. Hopefully the sweet-scented flowers do not blow away too quickly before you have a chance to enjoy them, too! I noticed yesterday in the swirl of snowflakes a bright pink magnolia blooming in the small garden area behind the education building. And finally, the lightly-scented daphne are beginning to bloom, too.
Do you smell what I smell? What fragrant plants are enthralling your nose this week?