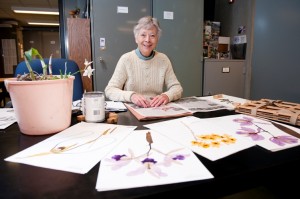 Do you miss the beautiful orchid displays from the Cloud Forest Tree?  In order to satisfy your orchid fix before the new greenhouse complex is complete and the orchids return to display, come see many of them as preserved specimens in the Kathryn Kalmbach Herbarium.
Volunteer Eleanor Von Bargen has worked tirelessly over the last 2 years to carefully preserve over 560 specimens of our orchid collection.  Each specimen is carefully chosen to capture optimal flowering by Von Bargen and curator Nick Snakenberg.  Many of the orchids retain their original beauty in preserved form creating valuable scientific documentation of what the species look like in flower.  These specimens add to the wealth of cultivated plants which have been added to our herbarium collection by volunteers in recent years.
Please visit the Kathryn Kalmbach Herbarium to see these beautiful orchid specimens in person.