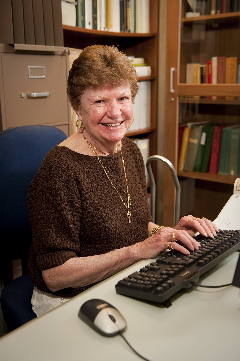 Denver Botanic Gardens mourns the loss of a dear friend and long time volunteer, Mary Jorgensen.  Mary began volunteering at the Gardens in 2004, contributing over 2,140 hours of volunteer time.  Few areas of the gardens did not directly benefit from her; she volunteered in:
- Research & Conservation
- Development
- Marketing / PR
- Special Events (Pumpkin Festival...she always staffed the pumpkin
daycare booth, Plant Sale Cashier, Birdhaus Bash, Concerts, Corn Maze, Fall Plant Sale, Blossoms of Light & Trail of Lights
Mary was willing to take on difficult, often computer-based, tasks that few others were able or willing to do.  Recalls Dina, curator of the Kathryn Kalmbach Herbarium, "She … helped us enter data for each collection into our electronic database which she did with great ease as she was a terrific typist."  Marcia Korinek in Development says, "She always rose to the challenge and gained the satisfaction of a job well done.  Mary was loyal, dependable, hard-working and loved challenges."
"Mary was extremely dependable; she truly loved the Gardens and embraced us as her community," says Kelly Groen, Associate Director of Volunteer Services.  "She was the most genuine of people and could always be counted on to share her viewpoints and opinions honestly and freely. I appreciated that about her."
Others also remarked upon her frank nature. Said one, "She was bright, intelligent, educated, well traveled and certainly not timid about sharing her opinion on any given subject."
All who worked with her fondly remember her love of good food and her generosity sharing it.   "She usually ate her lunch at her desk ... and had, without a doubt, some of the most interesting culinary delights imaginable packed in her lunch bag and often shared the secrets of her recipes," says Marcia.
Kelly also remembered, "She always brought in candy to share...not just any candy, GOOD candy!" From Dina: "She regaled us with stories of her time in the Foreign Service and schooled us on the different types of grapes used for making wine as she was quite the wine connoisseur. She loved a party and always contributed tasty dishes for our many potlucks. We all loved her tomato pie."
Dina went on to say,  "We enjoyed Mary's time with us as she had a sharp wit, mischievous smile, and a great laugh.  When I close my eyes and imagine Mary, I always see her bedecked in green for her beloved St. Patrick's Day."
Marcia summed it up best: "We will miss her wit, her contagious laughter, the inspiration of her courageous fight against her lung problems, her staunch determination to remain active and give of herself through her volunteer work at the Gardens, and her beautiful, smiling Irish eyes."