The following was written by Tam O'Neil, a member of this year's Plant Sale Preview Party committee.
Denver Botanic Gardens Plant Sale Preview Party has become a favorite event of mine.  This year it happens on May 9 from 4-8 p.m.  Tickets, $35 in advance ($50 at the door), are on sale now through the day of the event, if available. The event signals the end of winter and beginning of the gardening season in earnest. You will find all the ingredients needed to welcome springtime, including delicious hors d'oeurves, a glass of wine and the first shot at a mind-boggling selection of all kinds of plants, including perennials, alpine, waterlilies, succulents, herbs, heirloom tomatoes and more.
I am generally a plant junkie. I'll wander and see what looks interesting until my cart is overflowing. Last year, however, I had one important item on the list: basil. People were in great spirits, and it was great fun catching up with friends as I wandered (did I mention we were drinking wine?), chatting, laughing, and shopping for plants. I did come to my senses long enough to scoop up a number of basil plants and feeling quite smug I headed to the check out.
Once home though I realized I had purchased something called cinnamon basil.  Hmmm. I was not certain how it would taste in pesto and I was a little disappointed in myself for not paying closer attention. I planted it anyway. When the plants began to flower I could see that the plants were named more for a delightful purplish flower than the taste of cinnamon. They actually looked nice next to the purple and white containers on my patio; almost as if I had planned it. I enjoyed the appearance (and the taste) of the plants all summer. If any visitors to my garden would inquire about where the plants came from I would simply remind them to mark the Plant Sale Preview Party on their calendars!  My advice: sip, chat, shop. Repeat!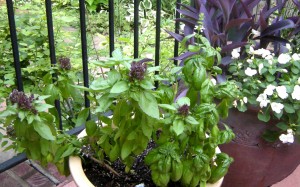 Cinnamon basil
Denver Botanic Gardens Plant Sale Preview Party, May 9, 4-8 pm. Advance tickets available for $35 each and can be purchased online.