Last week we were honored to co-host the Center for Plant Conservation Annual Meeting along with the National Center for Genetic Resources Preservation (NCGRP) in Fort Collins.  Conservation professionals from more than 20 botanic gardens, federal agencies, and organizations across the country gathered in Colorado for a four-day conference to celebrate our efforts to conserve our nation's rarest plants.
The Center for Plant Conservation (CPC) is a consortium of botanic gardens dedicated to protecting our nation's vanishing flora.  Denver Botanic Gardens was one of the founding partners of the CPC 27 years ago (1984).  We have been actively involved in seed collection and other conservation efforts in collaboration with the CPC ever since.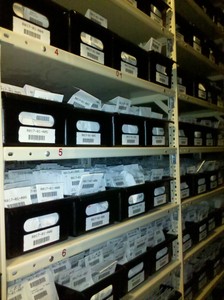 The conference included a full-day workshop hosted by NCGRP.  We learned the best methods for drying and storing seed as well as what happens to seed once they are sent to NCGRP for long-term storage.  The day included a tour of the facility where we were able to see the storage vaults, liquid nitrogen tanks, and the research labs.
Two days of presentations and discussion followed the workshop.  Not only were successes and trials shared among botanic gardens, but productive discussions were held regarding potential impacts of climate change on our rare flora, the need to update aging seed collections, and the issue of cultivating rare plants for commercial sale.
The conference ended with a field trip to the Shortgrass Steppe Research & Interpretation Center, a Long Term Ecological Research Facility run by Colorado State University.  Dr. Mike Antolin, the center's director, led us on a tour of some of the center's long-term research plots.
It was an honor to host our colleagues from botanic gardens across the nation.  It was a pleasure to show off our new facilities (visitor center and greenhouse complex among others) and to celebrate the success of our own research program.  We look forward to another productive year of conserving our region's rarest flora so that we have new successes to celebrate when we gather with the CPC again next year.