On the southern edge of the Denver metro area lies a broad expanse of beautiful landscape called the Chatfield Basin. Here, the Rocky Mountains meet the High Plains, and southern deserts meet northern boreal forests. In addition to its aesthetic beauty, the Basin provides valuable habitat for a wealth of species.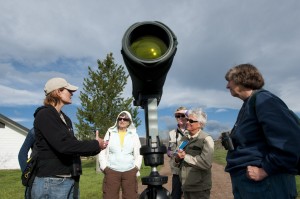 Notable Basin landmarks include Chatfield State Park, Roxborough State Park, Audubon Center at Chatfield, South Platte Park, and Denver Botanic Gardens at Chatfield, the location for this morning's spring bird walk. April marks an exciting time of year for most birders (short for "birdwatcher").  Migrants are beginning to return to their Colorado breeding grounds for the summer months, males are singing to establish territories, nest construction is under way, and the lack of leaves on most trees makes it easier for everyone to observe the action.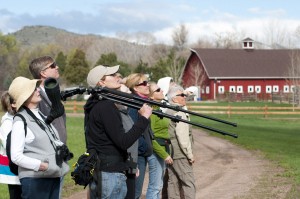 We had 14 participants join in today's walk led by Sheridan Samano.  Several members of the group were first-time birders, as well as first-time visitors to Denver Botanic Gardens' Chatfield site.  The weather was cooperative and the birds failed to disappoint with their springtime exuberance.  We saw a pair of Swainson's hawks building a nest, great blue herons stalking aquatic prey, mallards dabbling in the ponds, Canada geese grazing in the fields, robins pulling earthworms from damp soil and a Eurasian collared dove preening.  All in all, our Chatfield checklist included two dozen species.
The next time you visit Denver Botanic Gardens at Chatfield, don't forget to scan the skies and trees for feathered fliers.  More than 300 species of birds have been documented in the area, making it a migration hotspot.  This diversity is a tribute to the important role of native plant communities (like those at the Gardens) to Colorado wildlife.
Blog entry by guest blogger, Sheridan Samano.  Sheridan teaches Rocky Mountain Gardening Certifcate courses at the Gardens.