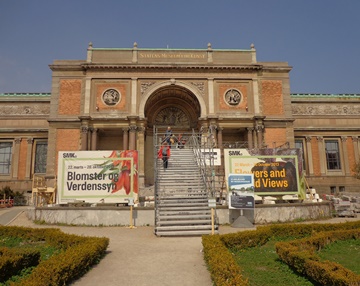 Knowing that Denver Botanic Gardens has a world-renowned Botanical Art & Illustration Program, when I noticed that the Danish State Art Museum (henceforward referred to as SMK) was situated across the street from the botanic garden in Copenhagen, of course we had to pay a visit. Gazing at some lovely paintings is, after all, the perfect palate cleanser between visits to a dozen or so great gardens, don't you agree? Well, wouldn't you know? The gallery (which is ordinarily free) was staging a magnificent exhibition that they had prepared in-house called "Flowers and World Views" (Blomster og Verdenssyn)—a tour-de-force exhibit that you did have to pay for to see—and as lovers of botanical art, we naturally put our money down. To give you a taste of the experience, this link will show you the impressive LED display they mounted over the ticket counter at the entrance of the expansive exhibit halls.
It is not easy to encapsulate a vast exhibition like this one within a brief blog. It's obvious that the SMK has a vast reservoir of paintings and prints to draw from, and hundreds were used to show the manner in which flowers were viewed and depicted over the last half millennium in European art. A compelling case is made showing that flower painting reflects the mind-set and the very philosophical tenor of several distinct periods in European life. Much of the analysis utilizing contemporary critical analysis of the great post-structuralist philosopher, Michel Foucault.
The centerpiece of the exhibit (in my opinion) is a whole large exhibit hall with the Gotterfer Codex open to a random page inside a massive glass box. Nifty screens of iPads buried in the exhibit let you flip through the actual monumental books virtually (the books lying next to you for comparison), and many pages are hung around for closer examination.
You can be forgiven if you do not know the Gotterfer Codex. It lay quietly in the SMK for over 300 years with almost no one paying attention (you can actually leaf through the volumes here). Four immense volumes containing thousands of stunning paintings that documented the fantastic plant collection of Duke Frederick III of Schleswig-Holstein-Gottorp, who possessed an extensive garden in Hamburg full of treasures. He commissioned Hans Simon Holtzbecker to paint everything in his garden as it came into bloom over a period of years in the early 17th Century. It was only a few decades ago that the enormous artistic (and scientific) significance of this masterpiece was rediscovered and the circumstances of its creation determined. Holtzbecker did not sign the paintings anywhere, and for centuries the work was attributed to another painter. Today, it is considered one of the supreme masterpieces of botanical art—and it was a thrill to see the actual volumes and bear witness to the painstaking restoration and enjoy such a superlative and monumental exhibition.
This experience inspired many thoughts and ideas about flowers and art since I strolled through. How lucky we are to have art museums where great works of art can lie for centuries in quietude and care until their worth is rediscovered! How lucky we are to get onto planes and have a chance to fly around the world to see such exhibits. If you happen to be in Denmark or central Europe in the next few months (the exhibit ends in late October), you might even be able to experience it yourself. But most of all, this exhibit made me wish that Denver Botanic Gardens had the space and the proper galleries to mount something comparable on site! I hope our capital campaign can move quickly so we may soon too boast a building complex to house Education, Exhibits and Research Departments as they deserve! The maybe I can pipe dream that we can persuade the Danes to loan us perhaps just one volume of the Codex if not all four! 
P.S. I purchased a copy of the Exhibition book Flowers and World Views for the Helen Flower Library, where you can perhaps check it out some time. It has 250 pages with wonderful essays and hundreds of pictures from the exhibition.