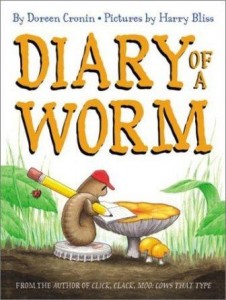 I am so excited and yes a little nervous about next Tuesday for our Seedlings class. I am bringing in a bunch of live worms for kids to look at and take home with them!  We will be reading the adorable "Diary of a Worm" by Doreen Cronin.  In this hysterical diary, kids get to see a portrait of a regular worm family and what worms do all day. After we read the book, we will observe live worms from a worm compost bin.  The class will then go to work creating their own individual worm bins to take home.
Kids will get to see that their kitchen trash does not need to be thrown away, but fed to the worms they are keeping instead.  This is a great way to introduce the idea of composting to kids because they also get to have some pets to take care of.  Worms love to eat anything from watermelon to newspaper to old tea bags which is a fun activity to do with your little one following dinner each night.  After they eat up all your unwanted kitchen stuff, they will cast out an incredibly rich and nutritious casting that you can add to your soil for house plants or as a great addition to your garden soil.
So come prepared to look at some real worms, touch them only if you want and take home a compost bin for these adorable little recyclers to live in!