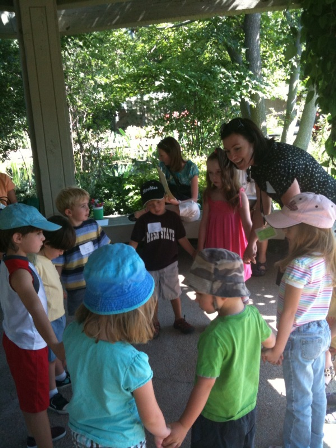 This is a time where kids from ages 3-5 can get together, have fun and explore the wonders of nature.  Their parents also have fun with one another and find camaraderie in the fact that their children are learning not only to appreciate nature, but also how to interact with nature and preserve its beauty. 
I have been teaching this class for over a year and still am amazed that, despite different ages or developmental phases, children always have something in common: they are fascinated by what we find during our explorations of nature! Whether it is a great pumpkin hunt, making chocolate or observing butterflies; nature does not need any props or costumes to capture their full attention.
With such a diverse collection of families, we have grown together through the weekly meetings and some have started their own exploration groups in their spare time with each other.  It's so important for new parents (I am one, too!) to meet outside the home and engage with other families that like to explore together, learn together and play in the dirt together!
For the month of October we have classes on building your own Japanese garden, making music with gourds and our famous pumpkin scavenger hunt where you get to take home a white pumpkin grown right here in the Gardens.
Please expect not only to learn something yourself about plants but also to start your own little seedling curiosity garden at home.  Some parents thought they would never do much with a garden or plants until they had their four year old saying, "It's okay mom we can grow corn, it just needs a good sunny spot."
So become part of our family of explorers as we make our own worm compost bins or plant some ginger while making gingerbread cookies and work on creating community.  To register, visit us at http://catalog.botanicgardens.org/  or feel free to call 720-865-3580.