This week kicks off the Contemporary Perspectives: A Series, a monthly program of curatorial talks and walks that broaden understanding and observations about not only Allan Houser's work, but also contemporary issues facing American Indian artists and communities.
Wednesday, May 25 presents "Native Modernism" with Truman Lowe (Ho-Chunk)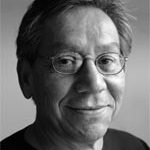 Curator and contemporary artist Truman Lowe explores the works of Allan Houser within the context of Native Modernism. Lowe was the first Curator of Contemporary Native Arts at the Smithsonian's National Museum of the American Indian in Washington D.C., where he curated the inaugural exhibition, Native Modernism: the Art of Allan Houser and George Morrison in 2005.
Lowe recently retired from of the Sculpture Department at the University of Wisconsin-Madison to focus on his own artwork. Don't miss his show in Gates Garden Court Gallery, Between the Real and the Imagined, May 19 - August 7, 2011.
Walk: 5:30 – 6:30 p.m. Join Truman Lowe on a walk through the Gardens as he examines individual works of Allan Houser through the lens of Native Modernism. Space is limited; early registration is encouraged. Meet in Lobby Court.
$15 member / $18 non-member - Series package (6 walks): $80 member / $90 non-member
Lecture: 7 – 8 p.m. Truman Lowe explores the themes of native modernism and speaks in depth on Allan Houser's work. In Gates Hall.
$8 student / $10 member / $12 non-member - Series package (6 lectures): $50 member / $62 non-member
Visit the Gardens' website or call 720-865-3580 to register.
Contemporary Perspectives: A Series is the fourth Wednesday of each month, May through October, 2011.  In June, we host Dr. Daniel Wildcat as he talks about contemporary Native issues explored in his book, Red Alert! saving the Planet with Indigenous Knowledge. Visit the Native Roots | Modern Form portion of our website for tickets and upcoming programs.