Henry David Thoreau. John Muir. Teddy Roosevelt. Judy Sellers, Denver Botanic Gardens board member. What do these four people have in common? They are all dedicated and recognized conservationists.
Judy Sellers has recently been named the 2010 recipient of the Palmer Land Trusts' Stuart P. Dodge Award for Lifetime Achievement in Conservation. It may be a mouthful, but the message is simple: "Our quality of life, health and economy," explains Palmer Land Trust, "are rooted in Colorado's natural landscape." This message of environmental stewardship resonates with the Gardens' vision of sustainability.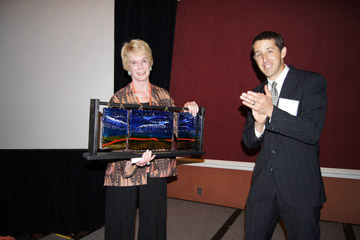 Judy was introduced to Denver Botanic Gardens when her family moved to Denver in 1969. She came to the Gardens often, fascinated by all the horticultural possibilities in her newly adopted state. Over her many years of involvement, Judy has watched Denver Botanic Gardens grow from a place of beauty to an organization with strong emphasis on education, outreach and conservation.
Judy is a remarkable conservation leader across the Rocky Mountain West. "It never occurred to me to be honored for what I do," says Judy, "It's just the way I live my life. As for the Gardens, it is a great privilege to be a part of the work there. It's one of the most satisfying things I've ever done."