Wonder why B.B. King's guitar is named Lucille? Wondering how many Grammys he has received? And did you know he did an album with U2? Read this pre-concert review from Rick Hum, one of our Gardens members, and find out the answers to these questions and much more.
The B.B. King concert is the last concert of this concert season. Rick, a special thank you from all of our concert-goers for researching and writing all of these great pre-concert blog posts this year. It has been a fantastic summer for music at the Gardens, and it was a special treat to be able to read these reviews and know about the background of the artists before each show.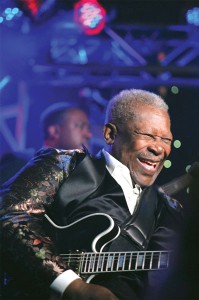 B.B. King
Sunday, Aug. 21 – York Street
Doors at 6 p.m., concert starts at 7 p.m.
Sold out! 
B.B. King:  Born Riley B. King on September 16, 1925 on a plantation in Itta Bena, Mississippi.  His father abandoned the family when he was 4 years old.  His mother Nora Ella was too poor to raise her son, so his maternal grandmother, Elnora Farr raised King.  He grew up singing in the gospel choir at Elkhorn Baptist Church in Kilmichael.  At age 12 he purchased his first guitar for $15.  In his youth he played on street corners for dimes and sometimes would play in as many as four towns in a night. 

In 1947, he hitchhiked to Memphis, TN, to pursue his music career. Memphis supported a large musical community where every style of African American music could be found. B.B. stayed with his cousin Bukka White, one of the most celebrated blues performers of his time, who schooled B.B. in the art of the blues.  He performed on KWEM a black run radio station in West Memphis.  He needed a catchy radio name so started out with Beale Street Blues Boy, which was shortened to Blues Boy King and eventually B.B. King. 

In the mid-1950s, while B.B. was performing at a dance in Twist, Arkansas, two men got into a fight and knocked over kerosene stove, setting fire to the hall. B.B. raced outdoors to safety with everyone else, then realized that he left his beloved $30 acoustic guitar inside. He rushed back inside the burning building to retrieve it, narrowly escaping death (two people died in the fire). When he later learned the fight was over a woman named Lucille, he decided to give the name to his guitar to remind him never to do a crazy thing like fight over a woman. Ever since, each of his trademark Gibson guitars has been called Lucille.

King toured the entire "Chitlin' circuit" and 1956 became a record-breaking year, with 342 concerts booked.   Through the 1950s B.B. King amassed an impressive list of hits including 3 O'Clock Blues, You Know I Love You, When My Heart Beats like a Hammer and many more.  King received his first Grammy award in 1971 for The Thrill is Gone.  He was inducted into the Blues Foundation Hall of Fame in 1984 and into the Rock and Roll Hall of Fame in 1987. He received a Grammy Award for Lifetime Achievement in 1987.  Over the course of his career, B.B. King has received 18 Grammy Awards, the Presidential Medal of the Arts and the Kennedy Center Honors.

In 1988, King reached a new generation of fans with the single When Love Comes to Town, a collaborative effort between King and U2 on their Rattle and Hum album. In 2000, King teamed up with Eric Clapton to record Riding With the King. In 1998, King appeared along with Clapton, Dr. John, Koko Taylor, Bo Diddley and many others  in Blues Brothers 2000, playing the part of the lead singer of the Louisiana Gator Boys.

King has been married twice, to Martha Lee Denton, 1946 to 1952, and to Sue Carol Hall, 1958 to 1966. Both marriages ended because of the heavy demands made on the marriage by King's 250 performances a year. It is reported that he has fathered 15 children.