We have a concert at York Street tonight, our last of the season. Be sure to read this bio, compiled by Gardens' member Rick Hum and his wife Sue Ann Hum, before you go to the concert. A special thanks, Rick and Sue Ann, for all of the great bios this year. We'll see you dancing tonight at the concert!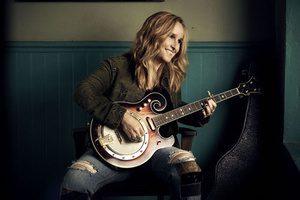 Melissa Etheridge
Tuesday, September 3, 2013
York Street
Sold Out! 
Melissa Lou Etheridge was born on May 29, 1961 in Leavenworth, Kansas. Her father was a high school psychology teacher and athletic director. Her mother was a homemaker and computer analyst.  She had one older sister. Her musical interest began early, picking up her first guitar at age 8. She played in country groups throughout her teenage years, until she moved to Boston to attend Berklee College of Music, where she played the club circuit around Boston.  After three semesters, Etheridge decided to head to Los Angles to pursue a musical career. 
Melissa Etheridge's eponymous debut album was released in 1988. She has been nominated for 15 Grammy Awards winning two; in 1993 for "Ain't It Heavy" and "Come to My Window" in 1994.  Both Grammys were for Best Rock Vocal Performance, Female.  She also won an Academy Award for Best Original Song, "I Need To Wake Up," written for the Al Gore documentary, An Inconvenient Truth.   
Etheridge's personal life has been a frequently curiosity for the media. She came out publicly as a lesbian at the 1993 Triangle Ball, a gay celebration of Bill Clinton's first inauguration. A gay rights and environmental issues activist; she boycotted playing shows in Colorado during 1993 over the state's passage of Amendment 2.  
Etheridge had a long-term partnership with Julie Cypher. During this relationship Cypher gave birth to two children: Bailey Jean in 1997 and Beckett in 1998; both were fathered by sperm donor David Crosby. In 2003 Etheridge and Tammy Lynn Michaels had a commitment ceremony. In 2006 they announced Michaels was pregnant with twins via an anonymous sperm donor. The sister and brother Johnnie Rose and Miller Steven were born on October 17, 2006.  In 2004 Etheridge was diagnosed with breast cancer and underwent chemotherapy.  She was diagnosed with the same BRCA gene mutation as Angelia Jolie. There were reports Etheridge called Jolie's decision to have a double mastectomy "fearful, not brave."  Recently, she's been busy with family duties at home in L.A. Her twins are now 6 years-old and starting first grade.  Her older kids are 14 and 16 and will be going back to high school soon. 
Her latest album is 4th Street Feeling.  The title waxes philosophically about the music she has been making, the music she hears on the radio and the music that was the soundtrack of her hometown, Leavenworth, where 4th Street was the main drag. It is reported that she has ventured out from her rhythm playing to do more lead guitar solos and even stepping out in concert with her electric guitar.  The players on the album include Blair Sinta (drums), Brett Simon (bass) and Zac Rae (keyboards). She also plays a banjitar – a banjo body with a guitar neck. 
Previous Colorado appearances include the 2008 Democratic National Convention with Cyndi Lauper and headlining at the Paramount on October 9, 2012.