It's concert season again at Denver Botanic Gardens! Our first concert is Sharon Jones & the
Dap-Kings (a funk/soul band) on the evening of June 1 at York Street. Tickets still available.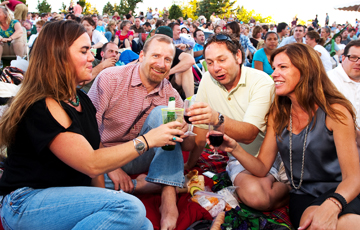 Come experience a concert at the Gardens--listen to incredible live music while you enjoy a picnic with a glass of wine, surrounded by the ambience of thousands of blooming plants. And learn more about Sharon Jones & the Dap Kings right here!
During the 2009 concert season, I noticed a couple up and dancing in front of the stage at most of the concerts, and I had the opportunity to meet these music aficionados. Rick Hum and his wife, Karen, longtime members of the Gardens (along with their loyal group of friends), attend most of the concerts together. Rick was kind enough to send me his thoughtful personal reviews of the 2009 and 2010 concerts, which I posted here in previous years at the end of each concert season.
This year we are shaking things up a bit. Rick is providing us with a pre-concert review for each of the concerts. Rick says, "For the past couple of years I've done some Internet research in advance of each show. Some of this is more detailed biographies than the shorter version linked to the Gardens' concert schedule. Frequently I also find information about the artist's or group's current tour and when it's available, a review or two from previous performances on the tour."
Visit this blog the week before each concert to find out more about the artists. I guarantee you will read something new and eye opening.
Thanks so much, Rick, for being a member of the Gardens and preparing us for the concert season. And we'll keep an eye out for you and Karen dancing at the concerts. We'll be dancing right next to you!
Sharon Jones & the Dap-Kings 
by Rick Hum

The summer concert season kicks-off with one of the 10 summer concerts the Denver Post listed as Don't Miss. 

"Sharon Jones holds nothing back. In concert, the powerhouse soul singer throws her entire being into the show, singing her heart out and dancing until she works up a sweat. Born in Augusta, Georgia, Jones grew up singing in church. Tough jobs working as a corrections officer at Rikers Island prison in New York and as an armored car guard for a bank paid the bills, but her heart was always in music," says a recent review in The Vancouver Sun.

Their shows and music remind you of those who have influenced Sharon Jones and the Dap-Kings: James Brown, Otis Reading and Tina Turner, to name a few.

Sharon Jones has recently fulfilled one of her dreams. In an interview with WRDW-TV in Augusta, GA, Jones said, "I bought this home really for my mother. I lived in the ghetto (in New York). I'm getting my mother out of the projects now." Jones' mother is battling cancer and she says this is a better living situation for her and gives a home feel to the family.

Wikipedia lists several collaborations, including the Dap-Kings somewhat unheralded contribution to Amy Winehouse's album Back to Black (2006). The Dap-Kings then became the backing band used on Amy Winehouse's first U.S. tour.

Jones recently contributed six period numbers by Bessie Smith and others to the soundtrack for the film The Great Debaters, recorded in the legendary Ardent Studio in Memphis. Jones is also a featured on the Verve Records Baby Loves Jazz books/CDs and has even had her own character books published by Penguin Books in conjunction with the series, entitled "Ella the Elephant: Scats Like That." Ms. Jones celebrated her silver-screen debut in the Denzel Washington-led film The Great Debaters, in which she acted, sang, and recorded the majority of the movie's soundtrack.

Discography:

Dap Dippin' with Sharon Jones and the Dap-Kings (May 2002, Daptone
DAP-001)
Naturally (January 2005, Daptone DAP-004)
100 Days, 100 Nights (October 2, 2007, Daptone DAP-012, World's Fair)
I Learned the Hard Way (April 6, 2010, Daptone DAP-019)

The recent tour dates includes six shows in eight day through Canada. Their next concert is June 3 in Ozark, Arkansas.