There are two concerts this week, and you can still get tickets to one of them! One is at York Street and one is at Chatfield. Be sure to read these bios compiled by Gardens' member Rick Hum before you go to the concerts.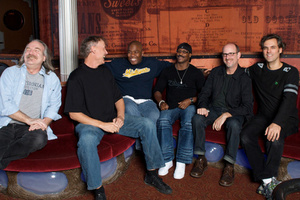 Bruce Hornsby and the Noisemakers
Thursday, July 18, 2013
York Street
Doors: 5 p.m. / Show: 7 p.m.
Tickets still available!
Bruce Randall Hornsby was born on November 23, 1954 in Williamsburg, VA. His father Robert Stanley Hornsby was an attorney, real-estate developer and former musician. His mother was née Lois Saunier. Bruce and his brothers, Bobby and Jonathan were raised as Christian Scientists. He studied music at the University of Richmond, the Berklee College of Music and the University of Miami, from which he graduated in 1977. He moved to Los Angeles with his brother John in 1980 and found work as a writer for 20th Century Fox and as a session musician with Sheena Easton's band.
He formed The Range in 1984. They put out four albums between 1986 and 1990. Hornsby had first played with the Grateful Dead in 1988. He performed with the Dead, doing over 100 appearances, until Jerry Garcia's death in 1995. He continues to play with some of the Dead spin-off bands. Hornsby put together five solo albums between 1993 and 2006 with some of the biggest names in music joining him. He also put together a trio with Christian McBride and a blue grass album with Ricky Skaggs. Hornsby is reportedly looking forward to a summer tour with the Grateful Dead influenced band Railroad Earth, but Denver fans will miss this collaboration. Unfortunately, Hornsby is going to be playing with the Noisemakers in California when Railroad Earth is at Red Rocks and RRE is going to be traveling while Hornsby is at the Botanic Gardens.
Always a popular draw at the Gardens, Hornsby and the Noisemakers played at York Street in 2004, 2008 and 2012. They also played at Chatfield with Béla Fleck and the Original Fleckstones in 2011.
Bruce Hornsby has won three Grammy awards and been nominated for 10 others. With all his success, he has not forgotten his roots. He has endowed the Bruce Hornsby Creative American Music Program at University of Miami. He has also taken an ownership interest in an FM radio station in Williamsburg known as "The Tide." Outside of music he is an avid basketball player and fan. He and his wife Kathy have twin sons Russell and Keith (after Leon Russell and Keith Jarrett); both are Division I college athletes.
Rumor has it there will be a great celebration at this concert with many happy dancers – come join in.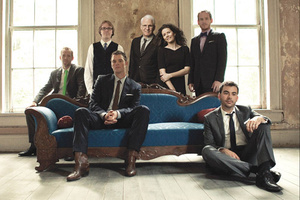 Steve Martin and the Steep Canyon Rangers featuring Edie Brickell
Saturday, July 20, 2013
Chatfield
Doors: 5 p.m. / Show: 7 p.m.
SOLD OUT 
Steve Martin first played with the Steep Canyon Rangers on a June 27, 2009 broadcast of A Prairie Home Companion. They have played selected dates since including a show at York Street on June 15, 2010.
Stephen Glenn Martin was born on August 14, 1945 in Waco, TX. His father was a an aspiring actor. Steve was raised in Inglewood and Garden Grove, California. His first job was at Disneyland, selling guidebooks. He frequented the magic shop in Fantasyland where he perfected his talents in magic, juggling and creating balloon animals. He started his career as a writer for The Smothers Brothers Comedy Hour in 1967. He and the other writers won an Emmy Award in 1969. He went on to write for many other comedy and variety shows through the mid-1970s. He did stand-up comedy on The Tonight Show, other shows, and then Saturday Night Live guest appearances. It is a common misconception that he was a SNL cast member, but he never was. He has however hosted the show 15 times.
In 1979 Martin co-wrote and stared in The Jerk, directed by Carl Reiner. In all, he has been in 49 films over 50 years. In addition to the Emmy, he has three Grammy Awards for comedy albums and in 2009 won a Grammy for his album The Crow: New Songs for the 5-Stringed Banjo.
The Steep Canyon Rangers originated in Brevard, NC. The players are: Woody Plant – guitar and lead vocals; Graham Sharp – banjo; Mike Guggino – mandolin; Charles R. Humphrey III – bass; and Nicky Sanders – fiddle. Their album Rare Bird Alert in collaboration with Steve Martin was nominated for a Grammy in 2012.
Edie Brickell was born on March 10, 1966 in Oak Cliff, Texas. Her father was Eddie Brickell, a professional bowler, known as The Fort Worth Southpaw. She married Paul Simon in May 1992. They have three children together. She was the lead singer for the New Bohemians starting in 1988. Her latest album, Love Has Come For You, is collaboration with Steve Martin. It was released in April 2013.