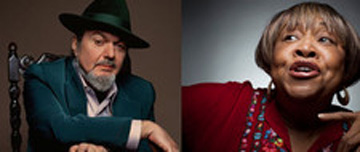 Concert season is now in full swing!
Our next Summer Concert Series concert at York Street is
Dr. John & The Lower 911 and Mavis Staples on Tuesday, June 14.
Doors at 6 p.m., concert starts at 7 p.m. Tickets still available.
Gardens' member Rick Hum provides us with some interesting background facts about these concert artists. Rick and his wife Karen first became members of the Gardens in 2002 and have been to most of the Gardens concerts in past years. Thanks, Rick, for sharing your pre-concert artist research with us!
Mavis Staples

Mavis Staples (born July 10, 1939 in Chicago, Illinois) is an American rhythm and blues singer; gospel singer; and civil rights activist who recorded with The Staple Singers, her family's band. Their 1971 recording "Respect Yourself" has universal appeal and was released in the period immediately following the intense American civil rights movement.

In 1972, the group had a huge No. 1 hit with "I'll Take You There". In 1999, the group was inducted into the Rock and Roll Hall of Fame. Pops Staples died of complications from a concussion suffered in December 2000. In 2005, the group was awarded the Grammy Lifetime Achievement Award. Mavis Staples continues to carry on the family tradition adding her vocal talents to both the projects of other artists and her own solo ventures.

Mavis Staples won the 2011 Grammy Award for You Are Not Alone (Best American Album). This was her thirteenth solo album. She also had a Grammy nomination for Live: Hope At The Hideout (Best Contemporary Blues Album), was featured on Oh Happy Day (Best Traditional Gospel Album), and on Waiting For My Child To Come Home she performed with Patty Griffin.

Dr. John & The Lower 911 Band

Malcolm John "Mac" Rebennack, Jr. (born November 21, 1940), better known by the stage name Dr. John (also Dr. John Creaux), is an American singer/songwriter, pianist and guitarist whose music combines blues, pop, jazz as well as Zydeco, boogie woogie and rock and roll.

He originally concentrated on guitar but his career as a guitarist came to an end when his left ring finger was injured by a gunshot while he was defending singer/keyboardist Ronnie Barron, his band mate, Jesuit High School classmate and longtime friend. After the injury, Rebennack concentrated on bass guitar before making piano his main instrument; pianist Professor Longhair was an important influence on Dr. John's piano styling. The proceeding info is from Wikipedia.

Dr. John has released 25 albums/CDs over the past 42 years under his own name. In addition, he was part of Bluesiana Triangle with David "Flathead" Newman and Art Blakey. Dr. John also contributed to five other albums including tributes to Lou Reed and Fats Domino. He has earned 5 Grammy awards between 1989 and 2008. His 2008 Grammy award (Best Contemporary Blues Album) was for City That Care Forgot, which deals with various aspects of post-Katrina New Orleans.

The Lower 911 Band lost one of its long-time members this year. A 'The Music's Over' blog posting includes some of this info: Herman "Roscoe" Ernest was a respected New Orleans drummer who appeared on countless records. He played with Dr. John's Lower 911 Band since the mid-1970s. On stage he was referred to as the Master of Ceremonies. His last appearance with him was on December 30, 2010. Herman Ernest died on March 6, 2011 following a long battle with cancer. He was 59.