Our next Summer Concert Series concert at York Street is
Chris Isaak on Friday, July 8
Doors at 6 p.m., concert starts at 7 p.m. This concert is sold out.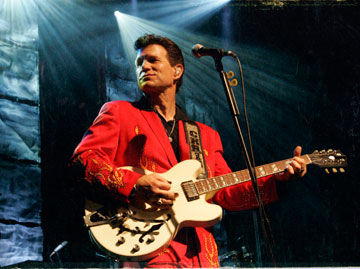 Get ready for the Chris Isaak concert! This pre-concert review is courtesy of Gardens' member Rick Hum.
Chris Isaak was born on June 26, 1956 in Stockton, CA, the last of three sons of Dorothy Vignolo Isaak, a potato chip factory worker, and Joe Isaak, a forklift driver. He was the valedictorian of his class (1974) at Stagg High School in Stockton. He graduated from the University of the Pacific in 1980.

After college, Isaak formed the band Silverthorne. The group featured guitarist James Calvin Wilsey, bassist Rowland Salley, and drummer Kenney Dale Johnson. Silverthorne became the singer/guitarist's permanent supporting band. Isaak released his first album, Silvertone, on Warner Bros. in 1985. It was critically well received yet failed to sell well.

Chris Isaak has an abiding respect for popular music's past with personal heroes like Roy Orbison and Buck Owens, and has a clear and vital passion for the here and now. In the course of Chris Isaak's career, he has released 14 albums. He was nominated for two Grammy awards in 1996 but Alanis Morissette (rock album) and Tom Petty (male rock vocal) won those Grammys. His two-decade career has taken fans on a gratifying musical journey of stellar songwriting; smooth, dusky baritone, tender falsetto and an effortless brand of stylish retro-cool. See more details here.

Chris Isaak has also used his famously sly, self-deprecating wit and matinee idol looks to enjoy a whole second life on-screen, in addition to his music career. He has acted in eleven motion pictures, mostly in cameo roles. He did play one of the lead roles in the 1993 movie Little Buddha and also had a major role in the 1992 movie Twin Peaks: Fire Walk with Me. In his biography he's quoted as saying, "I've had a blast, and been paid to try and act," but admits, "I say 'try' because anyone who has ever seen me act knows I'm no actor."

In addition to numerous other TV appearances Isaak starred in his own television show, The Chris Isaak Show. It aired from March 2001 to March 2004. Then in 2009 he did eight episodes of The Chris Isaak Hour, a one-hour music interview and performance show. It was reported that he was considered as Simon Cowell's replacement on American Idol. The Hollywood Reporter stated Chris Isaak was the front-runner, but Steven Tyler (Aerosmith) got the job. 

He is also quoted as saying for all the epic romance that he learned through the music of his heroes like Orbison, Elvis Presley and Ricky Nelson, his own most lasting lesson in how love should work came from his own parents, who've been married for sixty years now. As Isaak recalls, "I asked my mother for the secret, and she said, 'don't leave!'."