We have one concert at York Street next week, and tickets are still available! Be sure to read this bio compiled by Gardens' member Rick Hum before you go to the concert.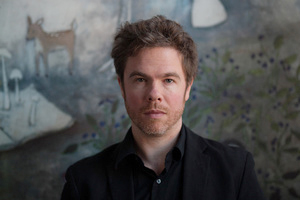 Josh Ritter & The Royal City Band
Monday, August 12
York Street
Doors: 6 p.m. / Show: 7 p.m.
Tickets still available!
Josh Ritter was born on October 21, 1976 in Moscow, Idaho, a college town in the northwestern part of the state. As a teenager, after hearing Johnny Cash and Bob Dylan's "Girl from the North Country," he attempted to write songs on a lute that his father had built, before abandoning the lute and buying his first guitar at K-Mart.
Ritter attended Oberlin College in Ohio to study neuroscience, but later changed his major to the self-created "American History Through Narrative Folk Music." At the age of 21 he recorded his first album at a recording studio on campus. After graduating, Josh moved to Scotland to attend the School of Scottish Folk Studies for six months. He then moved back to Idaho for a few months before moving to Providence, Rhode Island, then Somerville, Massachusetts, where he worked temporary jobs and played at open-mic nights. During this time, Ritter sold copies of his album and was spotted by Glen Hansard and his band The Frames, who invited him to return with them to Ireland.
Ritter's sixth album So Runs the World was released in April 2010 in Ireland and the next month worldwide. To promote the album, Ritter released one of the songs, "Change of Time" free on the Internet. The song also appeared on a March 23, 2010 episode of Parenthood. In support of the new album, Ritter toured with his newly named band, The Royal City Band. Some of the members of the band had been performing with Ritter from the early 2000s. The members include:
     Josh Ritter  – Lead vocals, guitar
     Zack Hickman – Bass, guitar, tuba, strings
     Sam Kassirer – Piano, keyboards, organ, accordion
     Austin Nevins – Guitar, lap steel, baritone
     Liam Hurley – Drums, percussion
Apart from music, Ritter also has interests in writing. Ritter's published novel, Bright's Passage, was released on June 28, 2011. Ritter has said of the novel, "Besides my songs, Bright's Passage is the first work I've wanted anyone to see."
Despite a tumultuous few years of divorce and hospital stays (Josh almost died from over-exercising last year), Ritter is no dour and damaged folk-singing survivor. One of the divorce songs he wrote on his latest album is called "Hopeful." Despite more than a decade of success on the road, he doesn't assume the crowd will sing his lyrics back at him. However he has been overwhelmed by the warm reception to his latest album released in February.
Ritter last played at the Gardens on June 20, 2007 as a warm-up act to Madeleine Peyroux.
Opening for Josh Ritter is a duo of twin voices of Joey Ryan and Kenneth Pattengale with their accompanying guitars known as The Milk Carton Kids. They are both from Eagle Rock, California and both had largely unsuccessful careers as solo performers before Ryan attended a performance by Pattengale in their hometown. The group was formed in early 2011 and they have now put out two albums. Their music can be downloaded free from their website.
Both play vintage guitars. Joey Ryan plays a 1951 Gibson J45 and Kenneth Pattengale plays a 1954 Martin O-45. NPR has described their approach to music as "gorgeous contemporary folk."