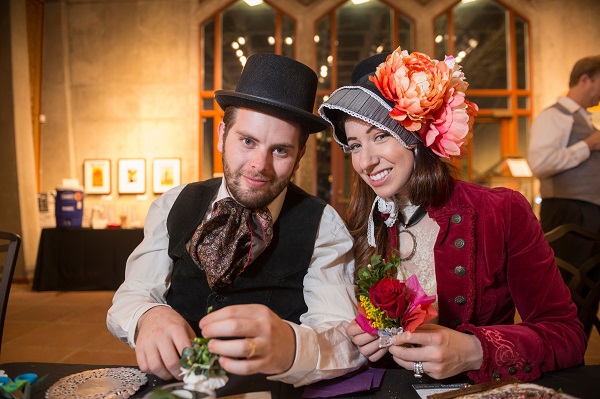 Earlier this month, we kicked off our 2017 Off the Clock event series with a reprise of a popular theme from last year, Vintage Victorian. Our attendees braved the fresh snow and chilly weather to join us for an evening of live music, hands-on crafts, cash bars, and the lush beauty of the Gardens' indoor spaces.
The structure of Off the Clock lends itself very well to using a variety of themes, and our team has a great time developing activities and entertainment for each one. But how do we decide which themes to use in the first place?
Ask The Audience!
After the success of last winter's themes, we wanted to hear directly from our guests. We surveyed attendees from all three events to determine what they liked, what they didn't like, and what they wanted to see in the future. As the feedback rolled in, we began to see patterns emerge.
What Will Actually Work?
Once we collected our survey data, we created a short list of the themes that excited both our team and our audience. From there, we did some initial brainstorming how to transform each theme into a fully-fledged event. Could we find enough local musicians for that genre? What kinds of hands-on activities could we implement? Would this be a unique event for the Denver area? Did we think this theme would be popular with Gardens visitors? You'd be amazed at how many themes fall off the list just by quickly working through these simple questions. 
If It Ain't Broke…
While we wanted to try out new themes, we also wanted to consider keeping the crowd favorites. Other events at the Gardens find their success from gaining loyal attendees who look forward to the event every year. With fresh twists on programming and execution, these repeated themes have the potential to become staples in our event line-up that our guests don't want to skip.
The Final Decision
In the end, we opted to go with two repeated themes and two brand new ones. This model gives guests some elements that they've seen before but also allows them to see something innovative and new. Make sure you get your tickets for the last three Off the Clock events before they sell out!
Off the Clock: Cajun Carnival
February 3, 2017
6-9:30 p.m.
Laissez les bons temps rouler! Dust off your masks and your dancin' shoes for a festive early Mardi Gras celebration. Dance to live music by Fat City Mardi Gras Band and Queen City Jazz Quintet, look into the future with a tarot card reading, make your own Mardi Gras mask, and enjoy our annual Orchid Showcase in the Orangery.
Off the Clock: Kilts & Clovers
March 3, 2017
6-9:30 p.m.
Back by popular demand! Celebrate the British Isles and the imminent return of all things green. Enjoy traditional Irish music and dance, compete for top bragging rights in a tricky scavenger hunt, and come in your favorite Celtic attire to really get into the spirit of the Isles!
Off the Clock: Palms & Pineapples
April 7, 2017
6-9:30 p.m.
Swap your ski jacket for a sun hat and enjoy a tropical paradise at our final Off the Clock of the year. Enjoy a variety of dances and musical performances by the Kalama Polynesian Dancers, make your memories last mau loa with a free caricature, and create some colorful hands-on crafts to take home with you.
Advance purchase recommended. Purchase tickets online or at the Bonfils-Stanton Visitor Center prior to 5 p.m. the day of the event for advance pricing. Tickets are limited and prices go up at the door.